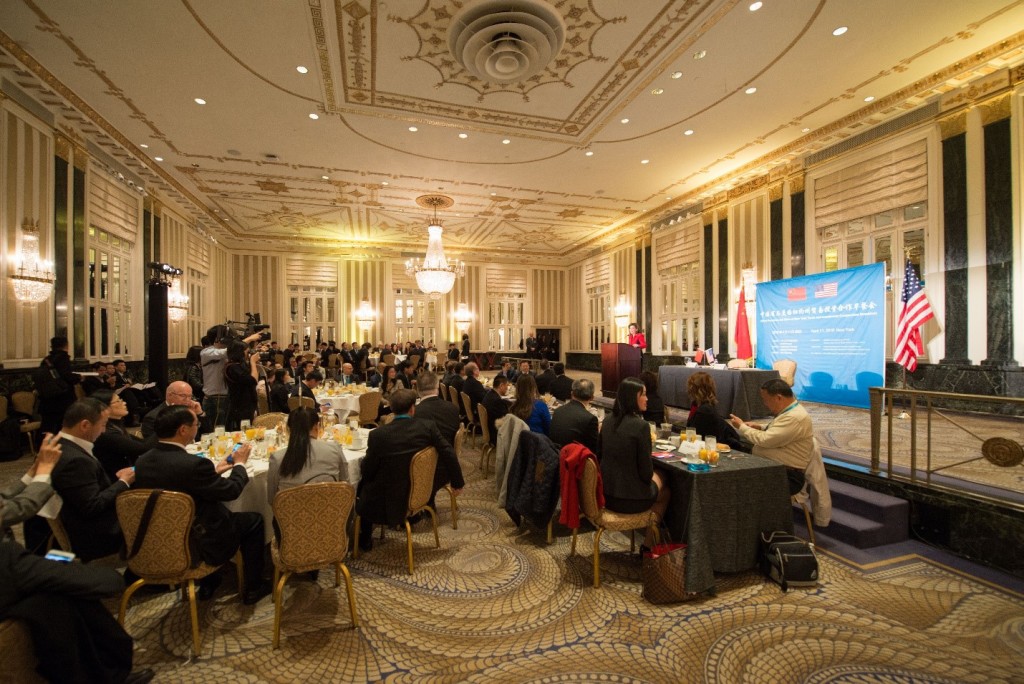 Monday, April 11, 2016, A joint working group was established on the "China Provinces—U.S. State of New York Trade and Investment Cooperation Breakfast" at Waldorf Astoria in New York. It was organized by China's Ministry of Commerce and State Government of New York, and co-organized by China General Chamber of Commerce – U.S.A. (CGCC). This working group aims to promote trade and investment cooperation between Chinese provinces and the U.S. state of New York.
---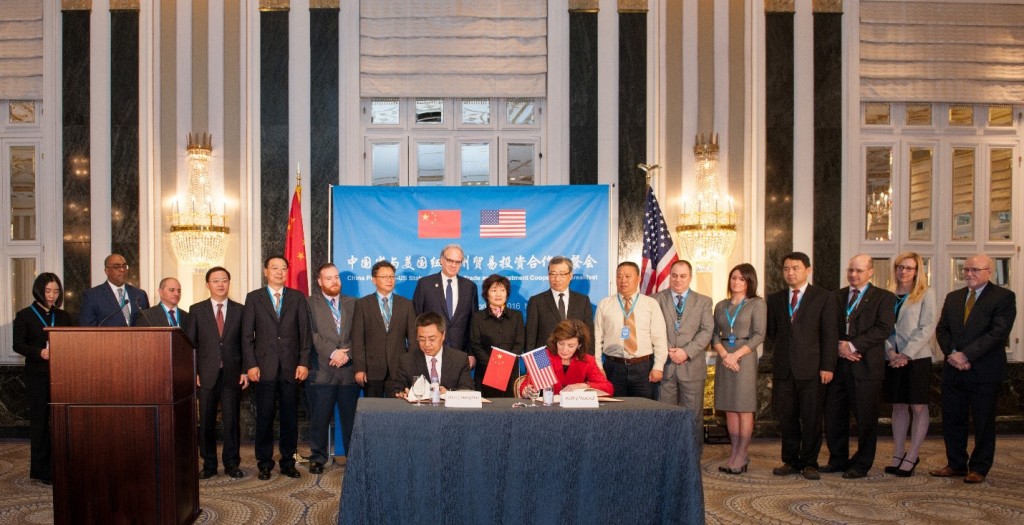 The group, the seventh of its kind at the local levels between the world's top two economies, involves the Empire State and six Chinese provinces and municipalities, namely Beijing, Shanghai, Jiangsu, Zhejiang, Jiangxi and Yunnan.
Addressing the breakfast reception, Zhang Xiangchen, China's deputy international trade representative, said that the group would help build platforms of services and exchanges for businesses of both sides to find more opportunities and expand cooperation.
By the end of 2015, Chinese businesses had made a total investment of 9.5 billion U.S. dollars in 95 projects across the state of New York.
While the existing Chinese projects largely focus on finance, energy, culture and real estate, Zhang said that the two sides have agreed to explore new cooperation areas such as clean technology, life science, advanced manufacturing, agriculture and food processing, and communication and media services.
Before signing a Memorandum of Understanding (MOU) on the establishment of the working group along with Zhang, New York State Lieutenant Governor Kathy Hochul stressed that the scale of the U.S. and Chinese economies "really demands closer integration of what we are doing."
"We want them (Chinese businesses) to feel welcome in our state. The businesses from our state are looking for export opportunities to the Chinese people and businesses," she added.
According to the lastest statistics, China has become New York State's biggest trading partner outside of North America, while the Chinese mainland and Hong Kong combined is the top export destination for the state.
Citing the fact that around one million Chinese visit the state of New York every year and the number of Chinese students coming here for education also keeps rising, Hochul said: "There is so much more than the trade numbers. It is the people behind the numbers."
Before the New York working group, six similar groups have been set up since 2012, linking 25 Chinese provinces and municipalities to the U.S. states of California, Iowa, Texas, Michigan and Washington as well as the city of Chicago.
In November 2015, the Chinese Ministry of Commerce and the U.S. Department of Commerce also signed an MOU to jointly promote the Sino-U.S. trade and investment cooperation at subnational level.
With over 2,000 Chinese enterprises operating in the United States, Chinese direct investment in the U.S. exceeding 10 billion dollars a year, and U.S. exports to China tripling in a decade, many people in both countries now regard trade and investment as a key component and a solid cornerstone of a healthy bilateral relationship.
(Source: Xinhua News Agency, CGCC)