Governor joins Wanxiang Group and China General Chamber of Commerce in signing agreement to send more students to study in China for next two years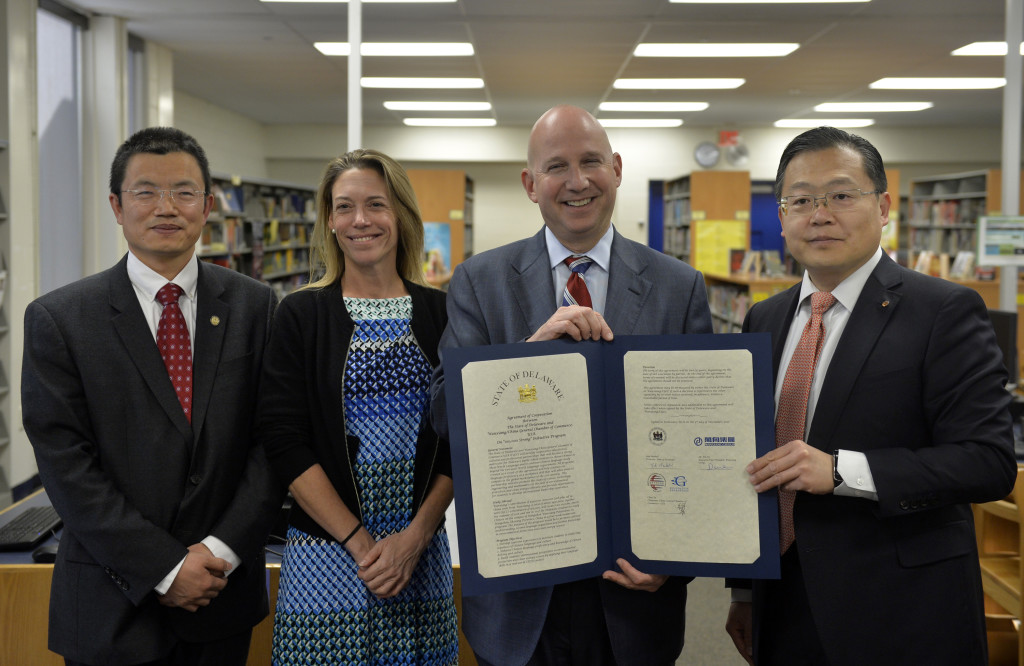 ---
Wilmington, DE – In a continuing effort to ensure Delaware students have the best opportunities to learn a second language, Governor Markell today announced the expansion of a China summer abroad program for high school students studying Mandarin.
The Governor signed an agreement with representatives of Wanxiang Group, China's largest auto parts manufacturer, and China General Chamber of Commerce – U.S.A (CGCC)., the largest non-profit organization representing Chinese enterprises in the United States, for additional grants that will expand next summer's cohort and add a third cohort in 2017. The program, begun this year, allows students to study for four weeks at Wanxiang facility in Hangzhou, China, where they take daily language classes, visit local schools, participate in cultural activities, and tour sites of science and technology companies as part of a science, technology, engineering, and math (STEM) curriculum.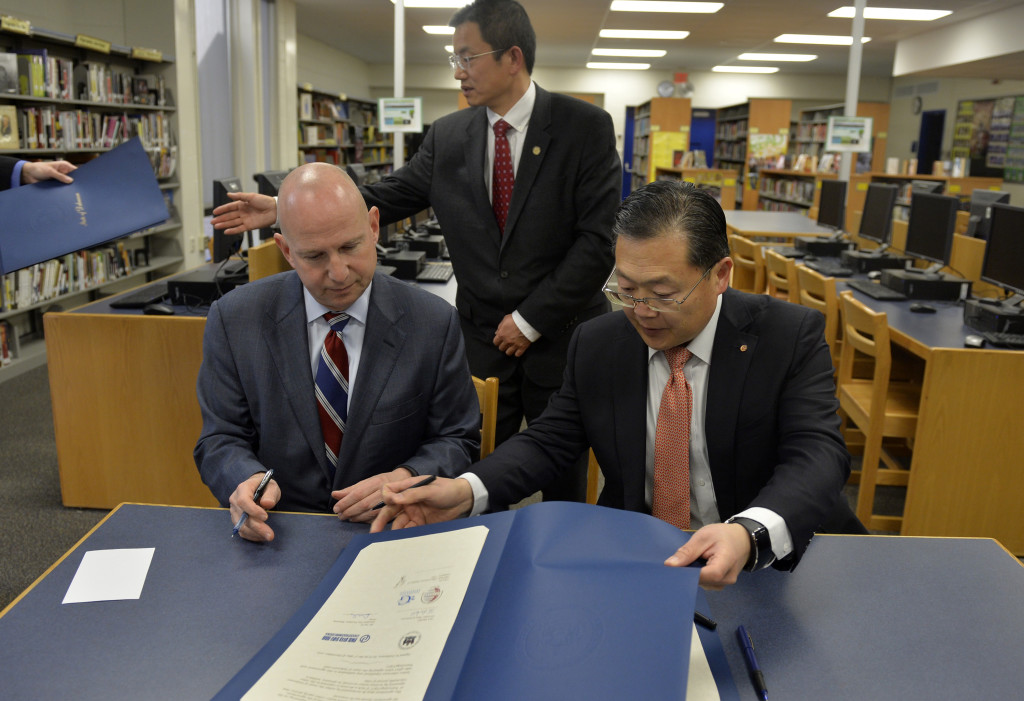 ---
"The 20 Delaware high school students who participated in the inaugural program spent this past summer improving their Mandarin proficiency, honing their science and math skills and exploring the Hangzhou area through historical and cultural visits," Markell said. "They didn't just study another language and read about another culture, they lived it, and the benefits of that incredible experience will last a lifetime.
"I am grateful to Wanxiang and the CGCC for their partnership and for their commitment to Delaware's efforts to increase innovative language learning opportunities and make ours the most bilingual state."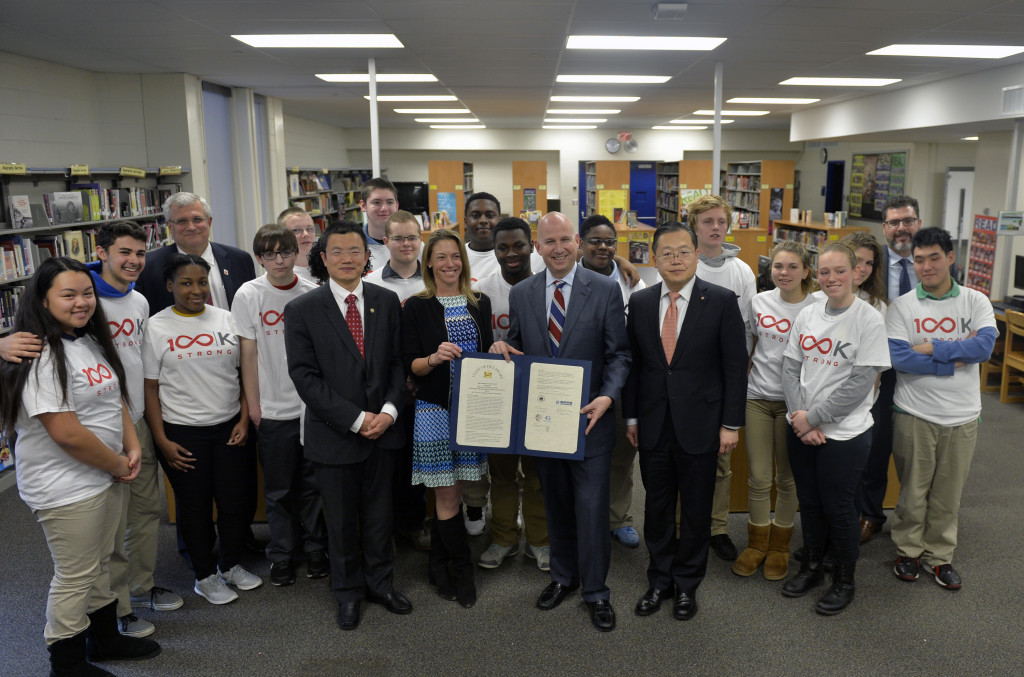 ---
Joined by students and teachers from Mandarin classes at A.I. duPont High School in the Red Clay Consolidated School District, Markell signed the agreement with Chen Xu, chairman of CGCC and president and chief executive office of Bank of China USA, and Wanxiang Project Manager Daniel Li, who represented Executive Vice President of Wanxiang Group Pin Ni.
In January 2015, Wanxiang and Delaware signed an agreement for the company to commit about $450,000 to fund the study abroad sessions in 2015 and 2016. Today's agreement adds to that, bringing Wanxiang's commitment to $675,000 over three years. Also new is a $75,000 grant from CGCC USA. Thanks to these commitments, the program will be able to continue through 2017 and fund up to 30 students each year of the next two years along with the chaperones.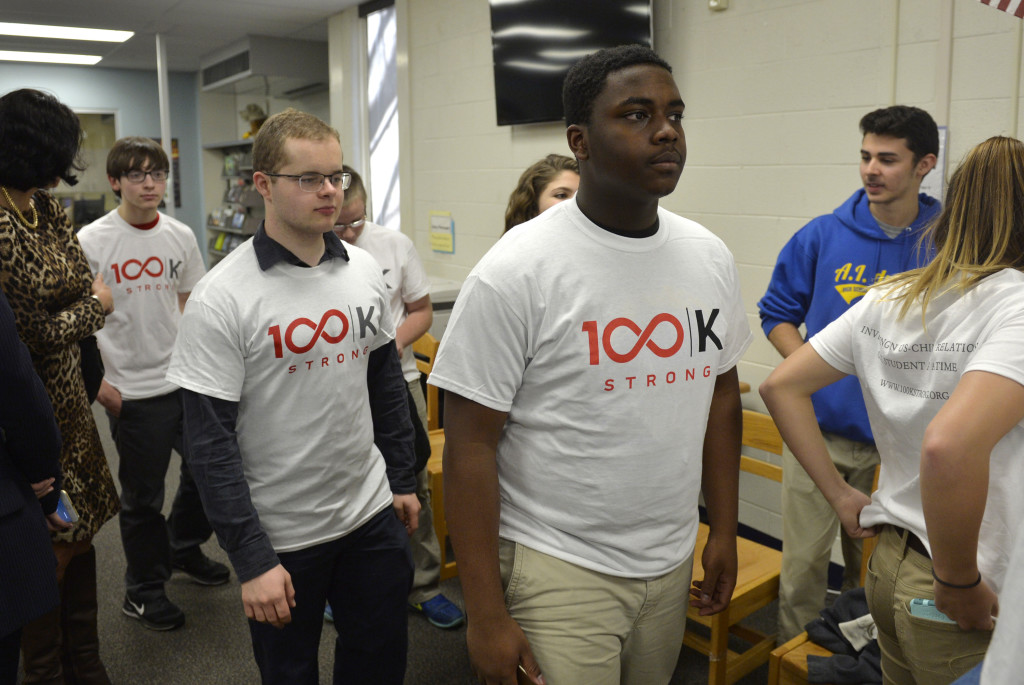 ---
Wanxiang, which has participated in President Obama's 100,000 Strong Initiative to send more American students to study in China, and CGCC USA will fund all travel, living, and educational expenses. The partnership with Delaware, known as the Delaware Summer Chinese LInCS (Language Initiative for Communicating STEM) program, is geared toward students interested in real-world opportunities to apply their Chinese language proficiency and cultural knowledge in a science, technology, engineering and mathematics (STEM) context.
"We appreciate the opportunity to build on our partnership with Delaware, which has emerged as a leader in providing world language education, specifically Chinese language opportunities, to students. We have a shared mission to provide students with a real-world opportunity to use their language skills and expand their cultural understanding," Li said.
"The signing of this MOU is just a start of a cooperative educational, cultural and professional partnerships among Delaware, Wanxiang and CGCC.  We are looking forward to develop many long-term and in-depth programs for our future leaders and help them to gain real international experience," Xu said.
"We are thrilled to see the success of such a valuable program that helps US and Chinese students – our future leaders – better understand each other's history, language and culture," said Carola McGiffert, CEO of the 100,000 Strong Foundation, who attended today's ceremony. "With the support of our signature partners, the Wanxiang Group and the Delaware Department of Education, we can work to introduce more programs like LInCS to build bridges between the US and China, and to focus on our new 1 Million Strong campaign to dramatically increase Mandarin learning across the country."
"We hope this partnership and program continues," said Red Clay School District superintendent Merv Daugherty. "It is a wonderful opportunity for our students."
Applications for this summer's program are due in March, and students will be chosen in April. Participants will depart in late June.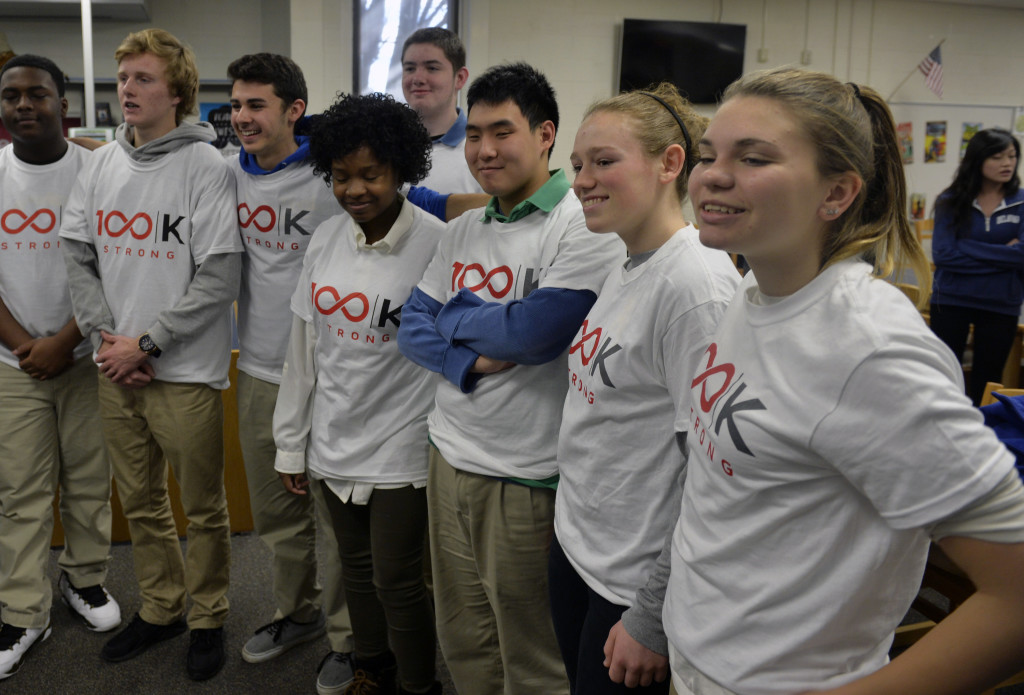 ---
(Source: Delaware.gov  |   Photo by Lei Wang, Xinhua News Agency North America)