On September 14, China Shenzhen Dapeng New Area Investment Promotion Conference was held in Park Central Hotel in New York City, hosted by the People's Government of Shenzhen and co-hosted by Cheerland Investment Group. Mr. Yong Li, Secretary of Dapeng New Area Work Committee, Mr. Shanqing Zhou, Economic and Commercial Counsellor of Consulate General of the People's Republic of China in New York, Mr. John Ma, PhD, Director of Investment & CIO of Cheerland Investment Group, and Mr. Chunyin Fang, Board of Director of China General Chamber of Commerce – USA (CGCC) and Chief Representative of China Re New York Liaison Office delivered welcome remarks at the conference. Over 100 guests and representatives from relevant sectors including technology, business, healthcare, and biotechnology participated the event and discussed new investment opportunities in biology and health sectors.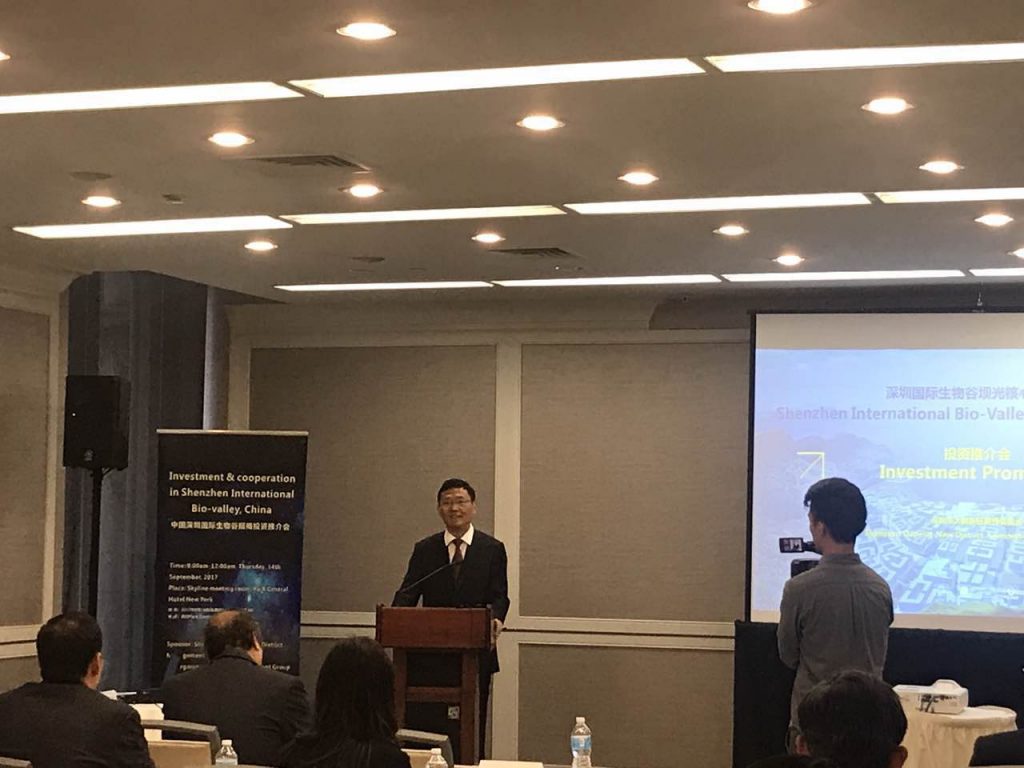 Dr. John Ma from Cheerland Investment Group greeted the audience and welcomed the Dapeng New Area delegation. Mr. Yong Li, Secretary of Dapeng New Area Work Committee expressed sincere gratitude to leaders, experts, and scholars in his remark, along with hopes for entrepreneurs to find ideal investment opportunities for win-win results with the help of first-class ecology, environment, location and prospect of Dapeng New Area.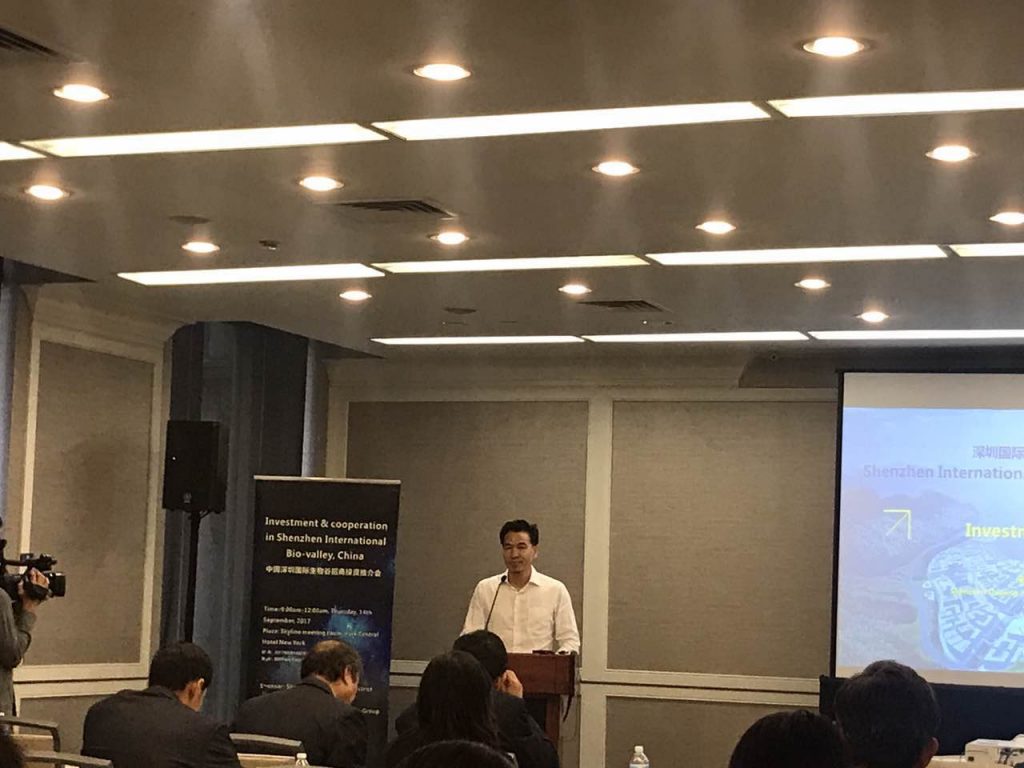 Counsellor Shanqing Zhou and Mr. Chunying Fang also extended welcome and good wishes to Dapeng New Area delegation, on behalf of the Chinese Consulate General in New York and CGCC, respectively.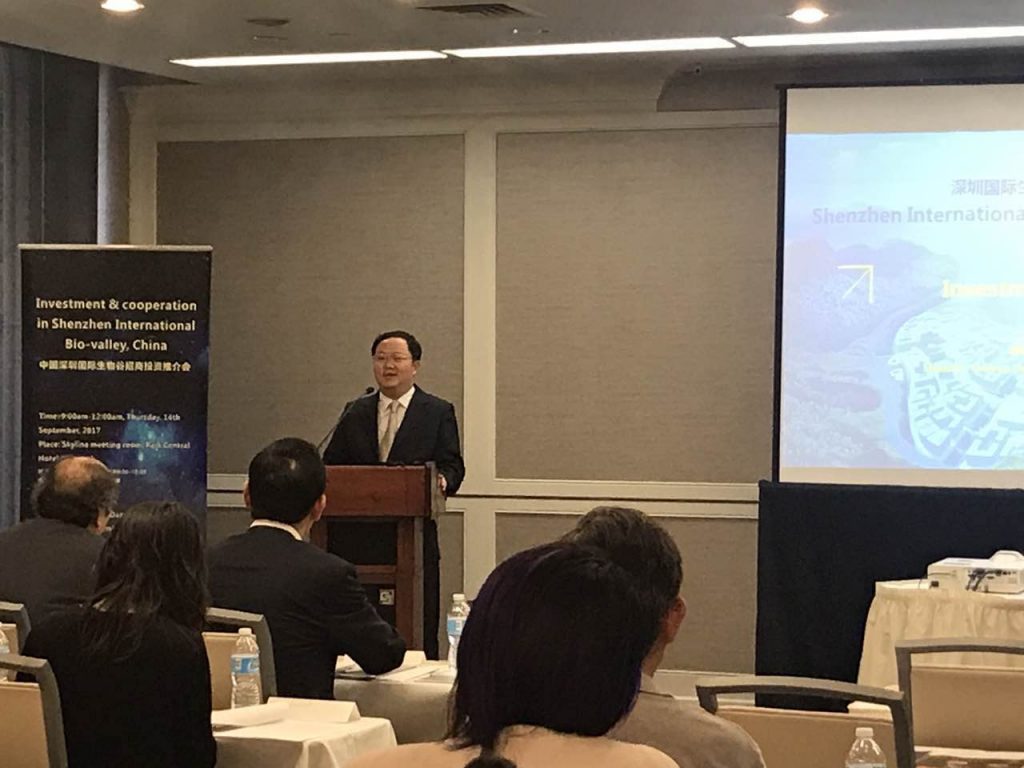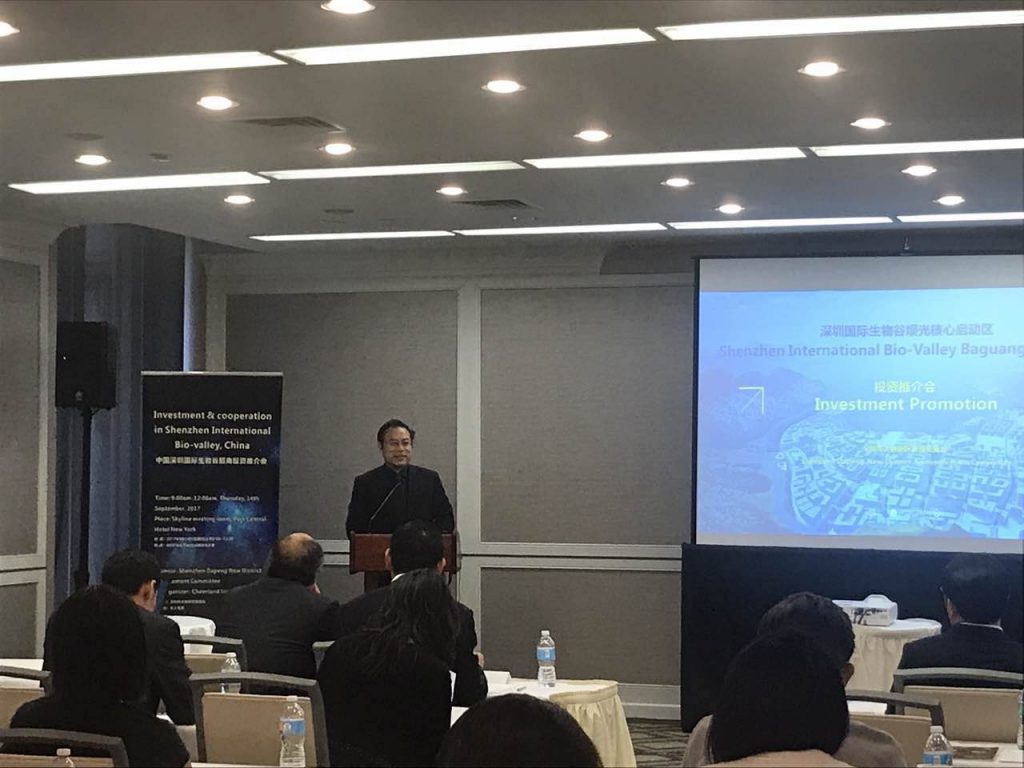 Baguang Zone is the core of Shenzhen International Biotechnology Valley. It has a total area of 31.9 km sq., with a construction area of 5.68 km sq. and a building area of 556 square meters. The construction of Baguang Zone has been fully launched, aiming at building a leading innovation center for biotechnology in the world, as well as a biotechnology sector base with global reputation. The CPC Shenzhen Committee and Shenzhen Municipal Government have always been attaching great importance and efforts to the development of biology and health as pillar industries. The industry experienced fast development in recent years at an average growth rate of 20% annually, and reached the size of over 200 billion yuan in 2016. The prominence of biopharmaceutics and DNA sequencing, in particular, is evident through the 319 enterprises of various types in the Valley, including a number of excellent new-type enterprises such as BGI, Mindray, and Beike Technology. Being a focus area of the city's development, Baguang Zone is given premium innovation resources by CPC Shenzhen Committee and city government to facilitate the development of biotechnology in the area.
The International Biotechnology Valley impressed the audience with its quality investment environment. Experts, scholars, and entrepreneurs at the conference showed great interest towards the investment environment and supporting policies of Shenzhen and Baguang Zone, with many expressing the wish of making site visits to Dapeng New Area in the near future.
About Cheerland Investment Group
CheerLand Investment Group aims to integrate global resources, while serving human healthcare and technological development, based on high-tech investment and real estate investment, together with medical technology and Internet banking. Today, CLIG has branches in New York, San Francisco, Los Angeles, Beijing, Shanghai, Xiamen, Langfang, and etc.
About CGCC
Founded in 2005, the China General Chamber of Commerce – USA (CGCC) is the largest nonprofit organization representing Chinese enterprises in the United States. CGCC's mission is to promote Chinese investment in the U.S., to advocate policy and legislation on behalf of its members and to enhance cooperation between the Chinese and U.S. business communities. Today, CGCC membership extends to more than 1,500 companies, 53 of which are ranked in the 2017 Fortune Global 500. By the end of 2016, CGCC Chinese member companies employed over 200,000 people in the U.S. labor force and invested approximately $100 billion in various industries throughout the United States.