Prominent American and Chinese Business Leaders and Officials Join CGCC to Celebrate the Chinese Lunar New Year of the Rooster and Continued Growth of Chinese Investment in the United States.
On Thursday, January 12, 2017, China General Chamber of Commerce – U.S.A. (CGCC)—the largest nonprofit organization representing Chinese enterprises in the United States—hosted CGCC Chinese Lunar New Year of the Rooster Gala at the Waldorf Astoria in New York. The event aims to celebrate the Chinese New Year and honor outstanding enterprises and business leaders of the China-U.S. business community.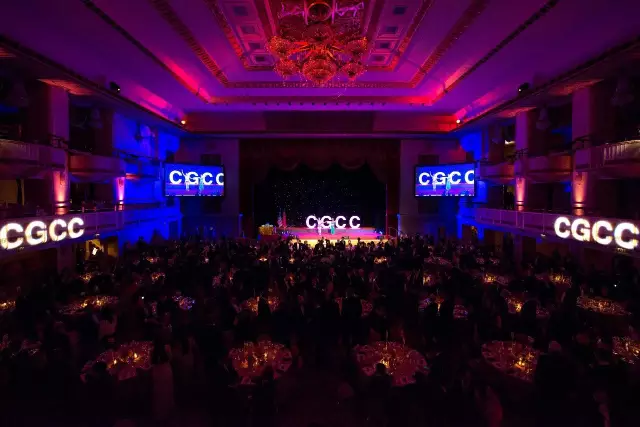 The event began with a welcome speech given by Xu Chen, Chairman of CGCC, President and CEO of Bank of China USA, and was attended by some of the most important and influential business leaders and policy makers from China and the United States, including Honorary Chairman of CGCC and Vice–Chairman of 12th CPPCC National Committee Tung Chee-Hwa; Chinese Ambassador to the United States Cui Tiankai; Former Secretary of State of the United States Henry A. Kissinger; Founder of Bloomberg LP and Bloomberg Philanthropies, Three-term Mayor of New York City and Chair of The Working Group on U.S. RMB Trading and Clearing Michael R. Bloomberg; Chairman, CEO & Co-Founder of the Blackstone Group and Chair of President-elect Trump's Strategic and Policy Forum Stephen A. Schwarzman; Chairman and CEO of Anbang Insurance Group Wu Xiaohui.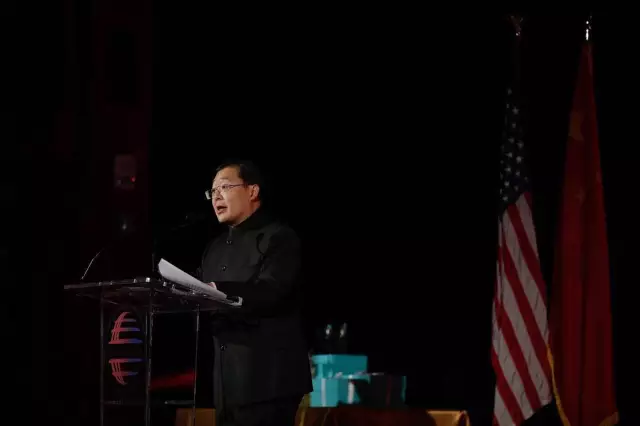 In the opening remarks, Mr. Xu Chen expressed great appreciation to all CGCC members and friends. "Looking back, tonight's gala is the largest we have hosted since our establishment in 2005. CGCC's progress could never be accomplished without the continued support from our community." As Chinese investment in the U.S. achieving a record high of $45.6 billion, CGCC is playing a much more important role with expanded membership and greater influence.Mr. Wu Xiaohui delivered welcome remarks to all the guests. He said, "China is the largest developing country and the United States is the largest developed country, cooperation between the two countries can benefit not only their citizens but also the prosperity of the world." Mr. Wu shared a story of friendship between Mr. Schwarzman and him, concluding that the friendship built at personal level between the two countries will lay a very important foundation for the cooperation of the two countries.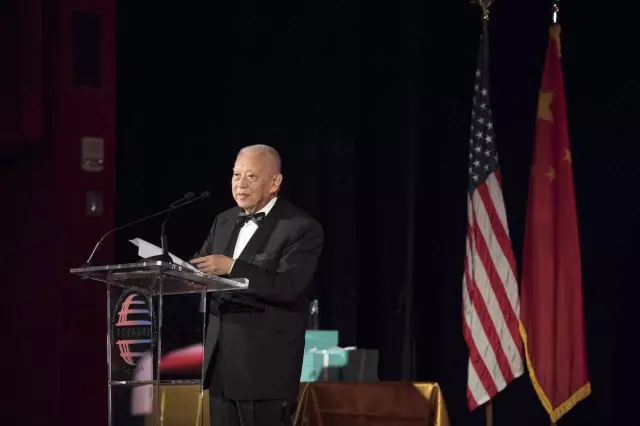 As one of the keynote speakers, Mr. Tung Chee-Hwa believed American people and Chinese people share the same aspiration. He said, "As Americans, you have a dream, dream for life, liberty, and pursuit of happiness. People in China today also have a dream. It is a dream for all citizens to rise above poverty, to live in dignity, to live in a society that is just and democratic, and to share growing prosperity. The American dream and the Chinese dream are fundamentally one dream, a dream for a better life in a peaceful and a prosperous world, for this generation and many generations to come. Let's go for it!"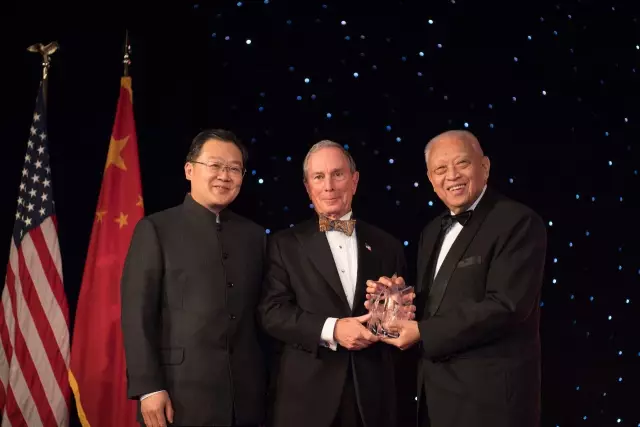 At the Gala, Michael R. Bloomberg was honored "Special Award for Advancing RMB Internationalization" for his leadership of the Working Group on U.S. RMB Trading and Clearing to facilitate trading, clearing and settlement of RMB in the United States, presented by Tung Chee-Hwa. In receiving his award, Bloomberg said, "the RMB will play an increasingly important role in global markets as an investment and reserve currency. It has been an honor to chair the Working Group on U.S. RMB Trading and Clearing, an idea first endorsed by the Presidents of both of our countries over one year ago, and to advance work that will benefit both of our countries. Thanks in part to the success of this effort, other countries are now looking to expand their local RMB business. Our Working Group is looking at ways we can support them, and the further internationalization of China's capital markets."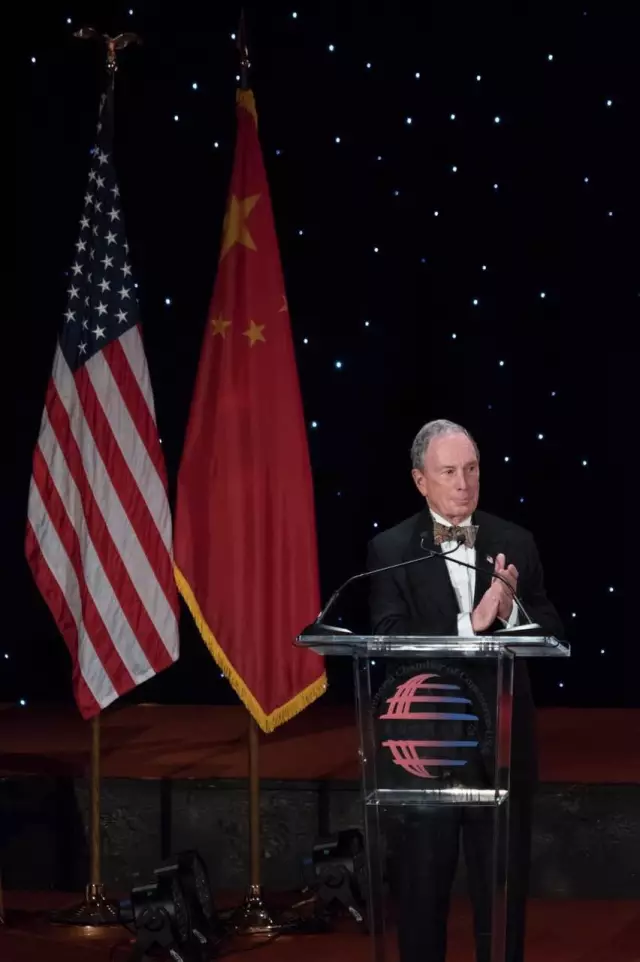 Mr. Stephen A. Schwarzman gave a warm introduction of Dr. Henry A. Kissinger and celebrated his ongoing contributions to the development of U.S.-China relations.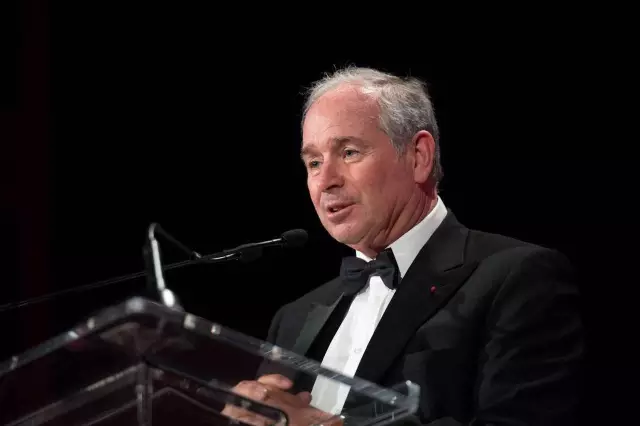 Dr. Henry A. Kissinger, as the other keynote speaker of the event, shared his thoughts on history of development of China-U.S. relations, and said, "We both know that we represent our countries to the best of our abilities but we also depend to achieve a consensus in which the development of our countries leads to the development of mankind. This is the creative challenge before the world today. If China and the United States can cooperate, we can build a new world order based on growth and cooperation, and if new administrations enter office, that is the legacy that they inherit, and can improve with their own imagination and abilities."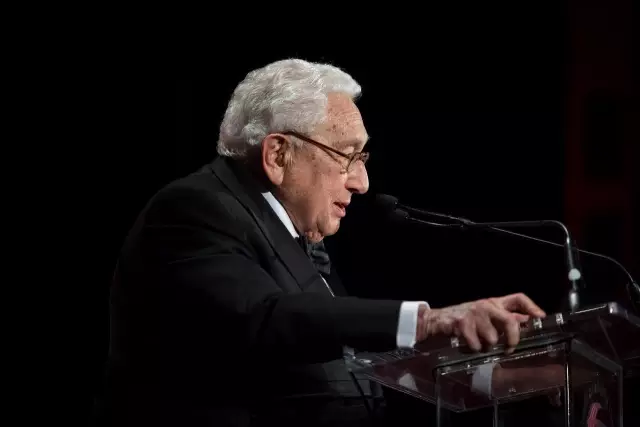 Dr. Kissinger presented "Goodwill Ambassador for China-US Exchange Award" to His Excellency Cui Tiankai on behalf of CGCC to acknowledge his years of contribution to promoting China-U.S. exchange and friendship. In his acceptance speech, Ambassador Cui expressed his determination and confidence in building closer cooperation and communication with the U.S. new administration in a few years' time.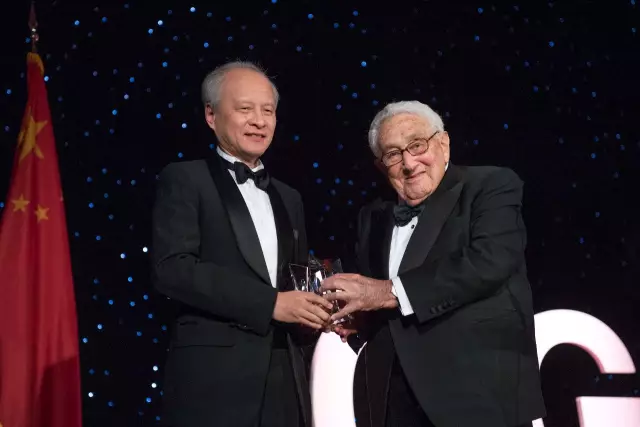 "The road ahead will not be smooth, but we are determined to overcome all possible difficulties, and develop stronger, more stable and more productive relationship with the United States. This will serve the interests of both our countries, and this will certainly serve the interests of the world at large. And I believe this is a shared responsibility of the global community."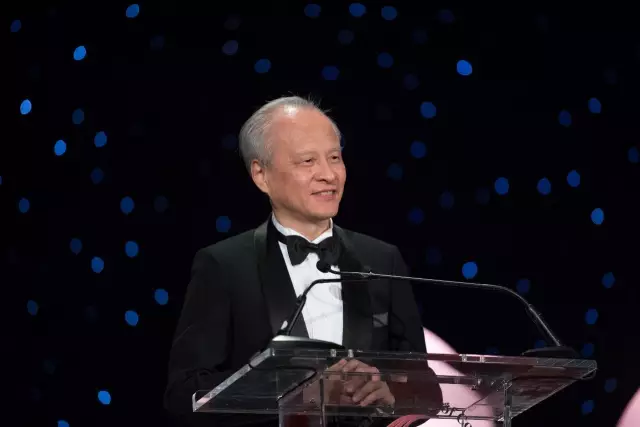 At the event, National Governors Association (NGA) and EY were presented to be "Outstanding Partner of the Year"; Anbang Insurance Group and HSBC were presented to be "Outstanding Member of the Year".  CEO of the NGA Scott Pattison, EY China Overseas Investment Market Leader Shau Zhang, EY Partner of Americas Brand, Marketing and Communications David O'Brien, Managing Director of Anbang Insurance Group Jason Cohen, and CEO Americas of HSBC Thierry Roland, representing their company and organization, received the awards.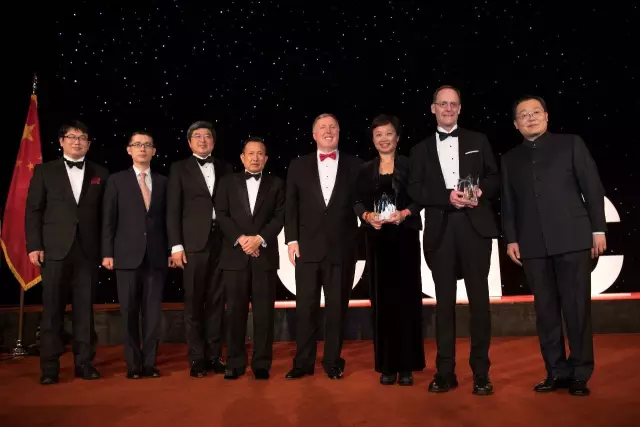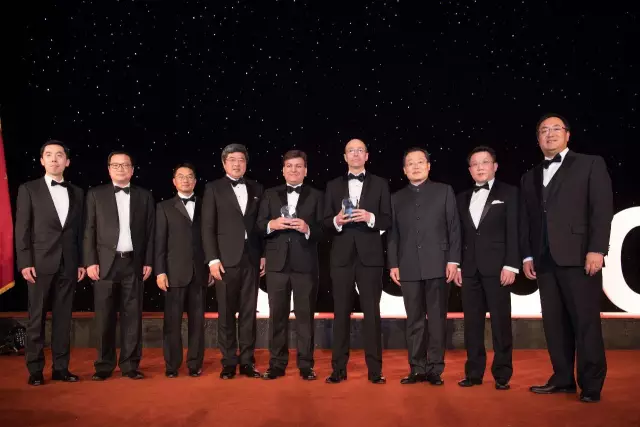 This Annual Gala brought together over 500 uppermost business leaders, government officials, and researchers from China and the U.S. in support of CGCC's growth, its expanding partnership, and the even more prosperous U.S.–China business relationship. As CGCC's flagship event, the Gala is an important component to ensure CGCC remains at the forefront of representing Chinese companies in the U.S. CGCC will continue to play a critical role in the U.S.-China business community and in contributing to the further development of economic and trade relations between the two countries.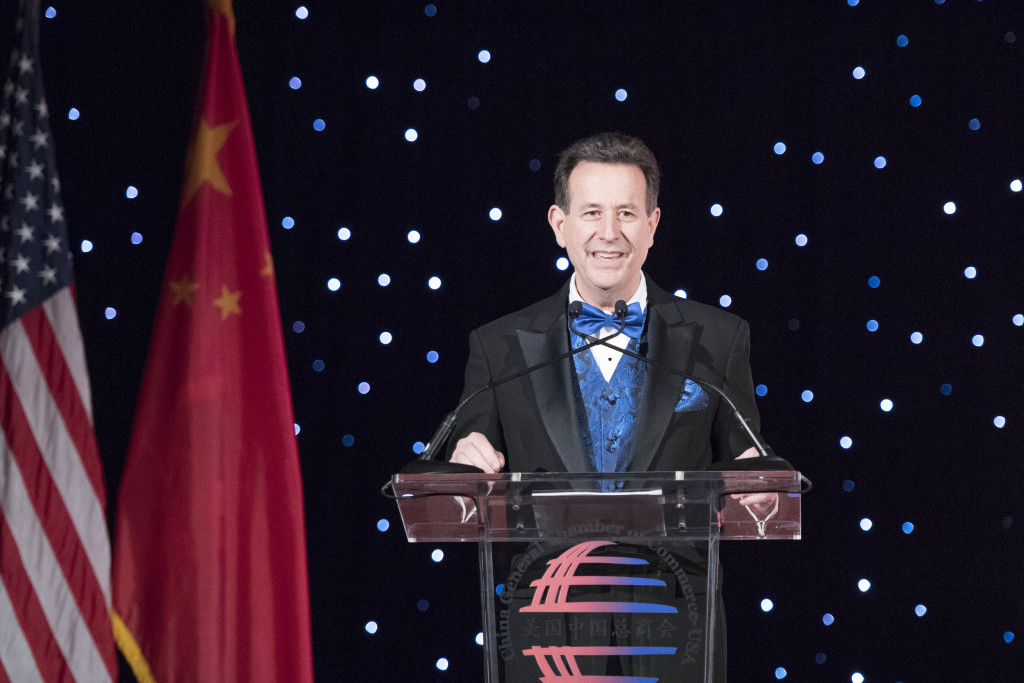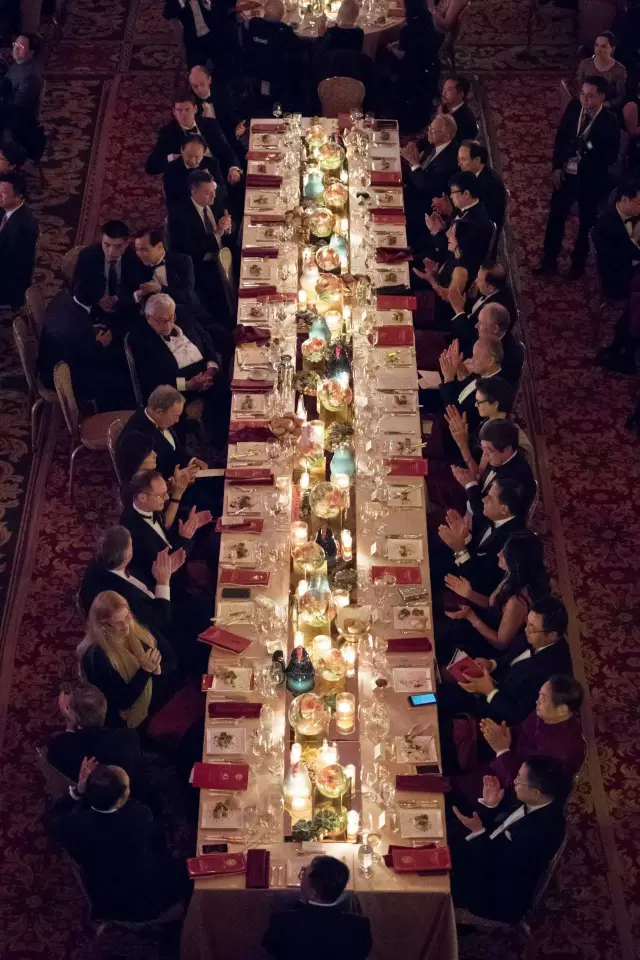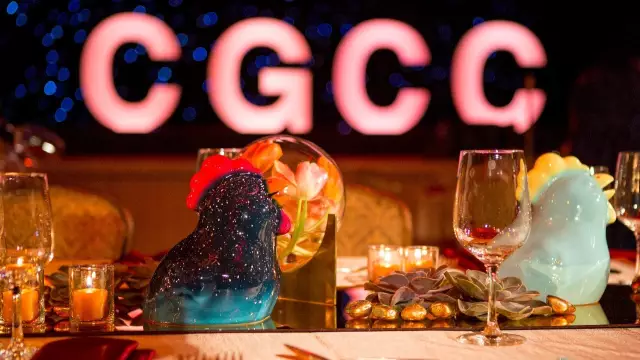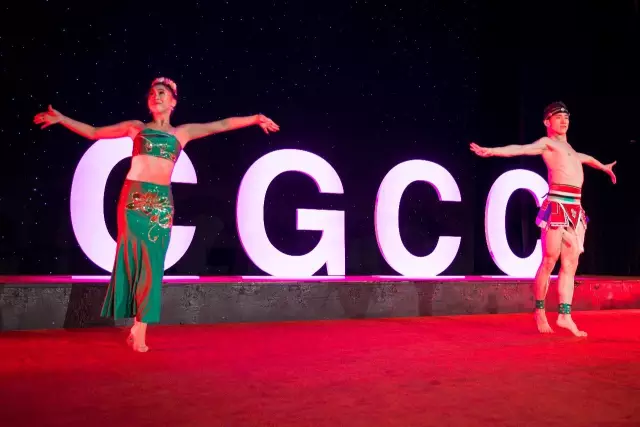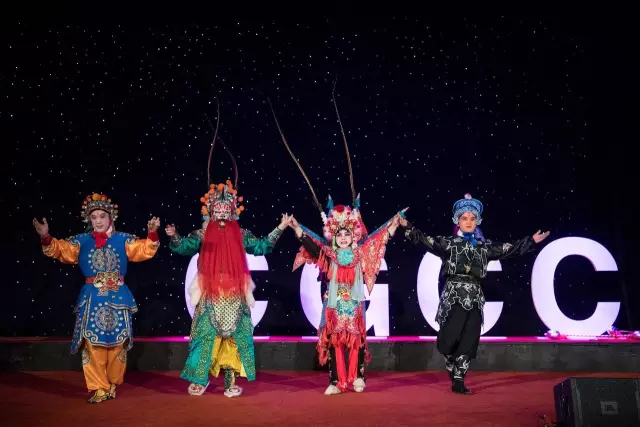 About CGCC
Founded in 2005, China General Chamber of Commerce – U.S.A. (CGCC) is the largest nonprofit organization representing Chinese enterprises in the United States. Our mission is to promote Chinese investment in the U.S., support the legal rights and interests of our members, and enhance cooperation between Chinese and U.S. business communities. Today, our membership extends to more than 1,500 companies, 40 of which are ranked in the 2016 Fortune 500 list.