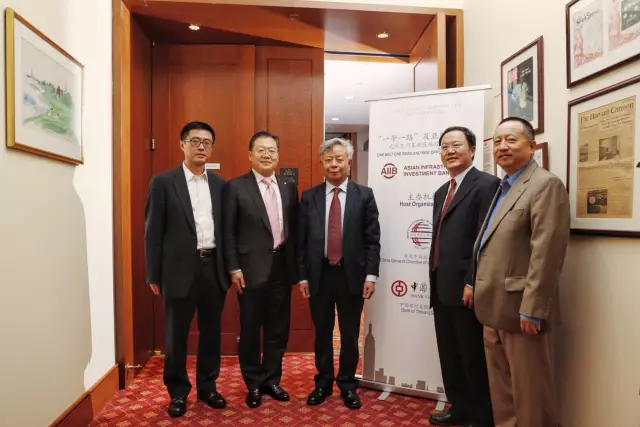 Friday, September 16th, 2016 – China General Chamber of Commerce – U.S.A. (CGCC) hosted "One Belt One Road and New Opportunities in Asia", a dinner reception and discussion featuring Mr. Jin Liqun, the President of Asian Infrastructure Investment Bank (AIIB), at the Harvard Club in New York. It was the third lecture of CGCC Mastermind Series event in 2016. Xu Chen, Chairman of CGCC, President and CEO of Bank of China USA, gave the welcoming remarks.
This event was attended by more than 30 distinguished guests from both public and private sectors, including Zhou Shanqing, Economic and Commercial Counsellor of Consulate General of the People's Republic of China in New York; Mr. Song Xiangyan, Chief Representative of the People's Bank of China Representative Office for the Americas; Mr. Jonathan Weiss, CEO of Wells Fargo Securities, LLC; Ms. Zoe Cruz, Senior Advisor of Promontory Financial Group and former Co-president of Morgan Stanley; and many other CGCC members and friends.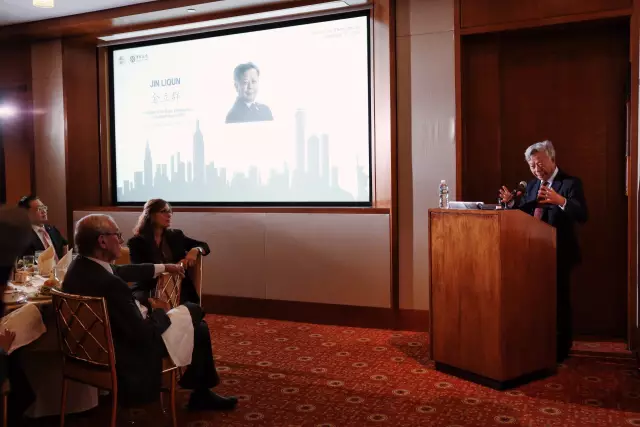 In the speech, Mr. Jin introduced the vision, operation, and current projects of AIIB. He pointed out that AIIB was an open institution that aimed to keep up with the new trend of Asian development and provide a high-standard cooperation platform for different countries. Mr. Jin stressed that AIIB was an efficient, open, and 21st-century development bank with goals of "Lean, Clean and Green" other than a simple clone of existing multilateral development banks. He also highlighted AIIB had zero tolerance for corruption and had put in place strong policies on governance, compliance and accountability.
As to the role of the United States in the AIIB, Mr. Jin said, there are many U.S. citizens doing great jobs in AIIB team. This indicated that all countries have contributed to AIIB development regardless of their membership status. In the meantime, he highlighted that AIIB was open to any country that wanted to contribute to the development of Asia, including the United States. "AIIB is born with a Chinese birthmark, but it will definitely be brought up in an international community."
In addition, Mr. Jin gave a brief introduction of AIIB projects covering infrastructure construction, power transmission, and other fields in countries such as Pakistan, Tajikistan, Bangladesh, Myanmar and Indonesia. He also talked about AIIB's close cooperation with other multilateral development organizations such as the Asian Development Bank and the World Bank. President Jin pointed out that members of AIIB were highly diverse, and their development needs varied accordingly. Therefore, AIIB is now transferring from simple infrastructure projects to a broader range of development projects.
As a platform of China-U.S. business communities, CGCC host the Mastermind Series aiming to improve communication and mutual understanding. In the previous two sessions of the Mastermind Series in 2016, CGCC featured guests included Former Chairman of China Banking Regulatory Commission Mr. Liu Mingkang and Chairman of BROAD Group Mr. Zhang Yue, who gave speeches on "China Economic Outlook 2016" and "Create a Dynamic and Sustainable New York City", respectively. CGCC presents millions of thanks for our members' continued, faithful support.
CGCC thanks Bank of China USA for its contribution and support to this event.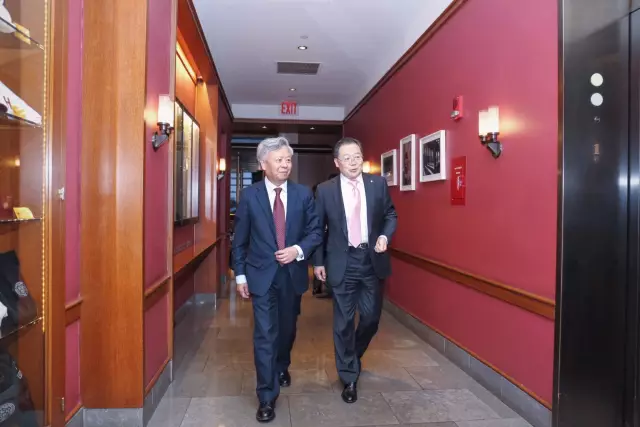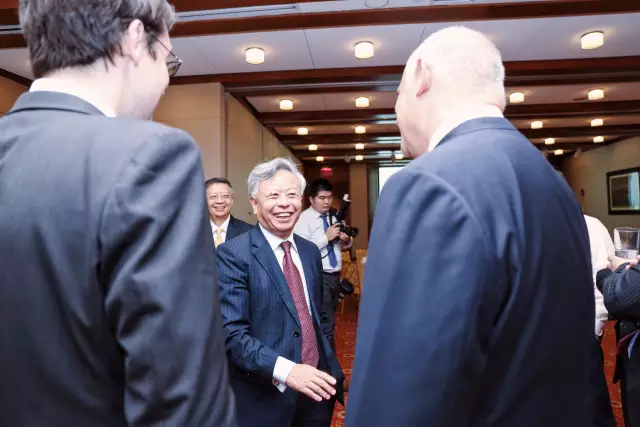 —————–
The Asian Infrastructure Investment Bank (AIIB) is a multilateral development bank conceived for the 21st century, which was initiated by Chinese government and has 57 founding members. AIIB mainly focuses on the development of infrastructure and other productive sectors in Asia, including energy and power, transportation and telecommunications, rural infrastructure and agriculture development, water supply and sanitation, environmental protection, urban development and logistics, etc.
—————–
Bio of AIIB President Mr. Jin Liqun
The Board of Governors of the Asian Infrastructure Investment Bank (AIIB) convened its inaugural meeting on January 16, 2016, declaring the Bank open for business and electing Mr. Jin Liqun as President for a five-year term.
Mr. Jin served as AIIB's President-designate from September 1, 2015 until his appointment as President on January 16, 2016. Prior to his selection as President-designate, he served as Secretary-General of the Multilateral Interim Secretariat (MIS), the entity tasked with preparing the legal, policy and administrative frameworks and undertaking other preparatory work required for the establishment of AIIB.
Immediately prior to assuming the role of Secretary-General of the MIS, Mr. Jin was Chairman of China International Capital Corporation Limited, China's first joint-venture investment bank. From 2008 to 2013, he served as Chairman of the Supervisory Board, China Investment Corporation (CIC). From 2009 to 2012, Mr. Jin served first as Deputy Chairman, and subsequently as Chairman of the International Forum of Sovereign Wealth Funds (IFSWF).
From 2003 to 2008, Mr. Jin was Vice President, and then Ranking Vice President, of the Asian Development Bank (ADB), in charge of programs for South, Central and West Asia, and private sector operations.