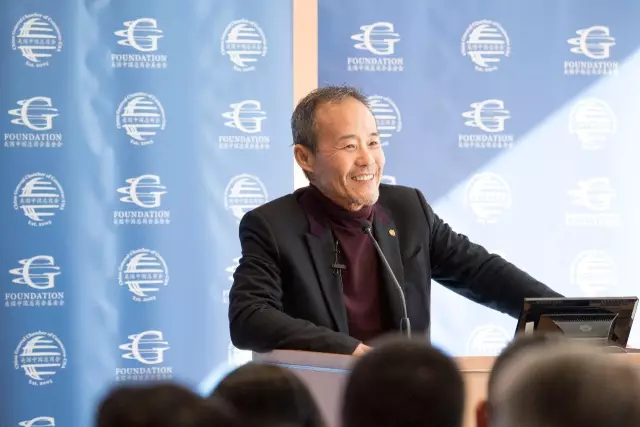 Thursday, February 16th, 2017 – China General Chamber of Commerce – U.S.A. (CGCC) hosted MasterMind Series Event featuring Wang Shi, Chairman of Board of Directors of China Vanke Co., Ltd., at Bank of China New York Branch. The event was attended by more than 120 distinguished guests from both public and private sectors, including Zhou Shanqing, Economic and Commercial Counsellor of Chinese Consulate General in New York. Xu Chen, Chairman of CGCC, President and CEO of Bank of China USA, gave the welcoming remarks.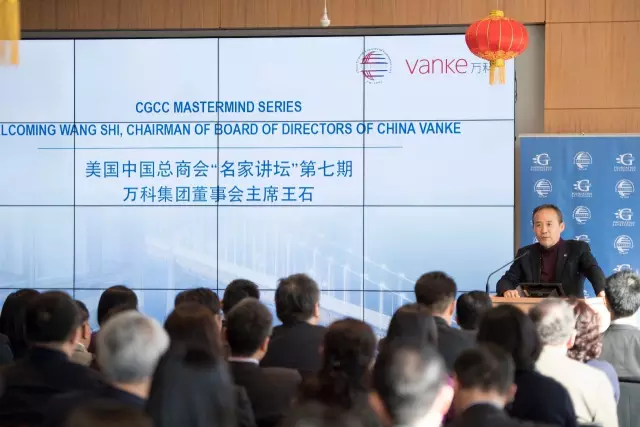 In his speech, Mr. Wang shared his view on the prospects of China's real estate market. He believes that the domestic real estate market has gradually transferred from "Golden Era" to "Silver Era"; for real estate enterprises, whether they can grow better or not depends on their development model.As for global strategy, Mr. Wang stressed that full trust in international partners and respecting the spirit of contract is extremely important. From Hong Kong and Singapore, to San Francisco and New York, Vanke insists to partner with the best local developers, fully trust the partner team, and cooperate closely with the local project management team, which enhances and accelerates Vanke's internationalization pace. Mr. Wang said that upon entering the US market, Vanke strongly emphasized localization in team building, product design, and customer targeting, so that it can quickly establish and expand business locally and remain competitive.Mr. Wang expressed his full confidence in Vanke's prospects in the US. Besides the ongoing projects in San Francisco and Settle, Vanke is actively exploring new opportunities in Boston, Washington D.C., Atlanta. In addition to residential real estate development, Vanke is open to try new business models in the US and will adapt the US experience to Chinese domestic market.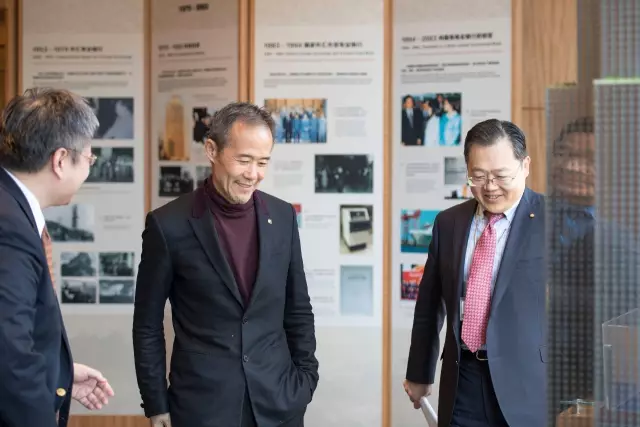 This event is CGCC's first event of the 2017 MasterMind Series, and the seventh in the whole series. As a platform of China-US business community, CGCC hosts the MasterMind Series aiming to improve communication and mutual understanding. CGCC extends millions of thanks to our members for their continued, faithful support.

CGCC presents sincere gratitude to Vanke (USA) Holding and Bank of China USA for their contribution to this event.

—————–

Founded in 1984, China Vanke Co., Ltd. has become a leading real estate company in China, with its main business being real estate development and property service. Adopting the strategy of focusing on city clusters, Vanke has covered 66 cities in mainland China by the end of 2015; Moreover, since 2013, Vanke made its attempts to invest overseas. It has now been involved in dozens of real estate development projects in Hong Kong, Singapore, San Francisco, New York City and London. Vanke delivers its property service business mainly through Vanke Property Development Co., Ltd. By the end of 2015, Vanke Property had near a thousand property service projects in 64 large- and medium-sized cities in mainland China, covering a contractual property management area of 210 million square meters.

Vanke US officially entered the US market in early 2013, and has committed investment in 15 projects of development and renovation; those projects are scattered in both east and west coast in the United States.