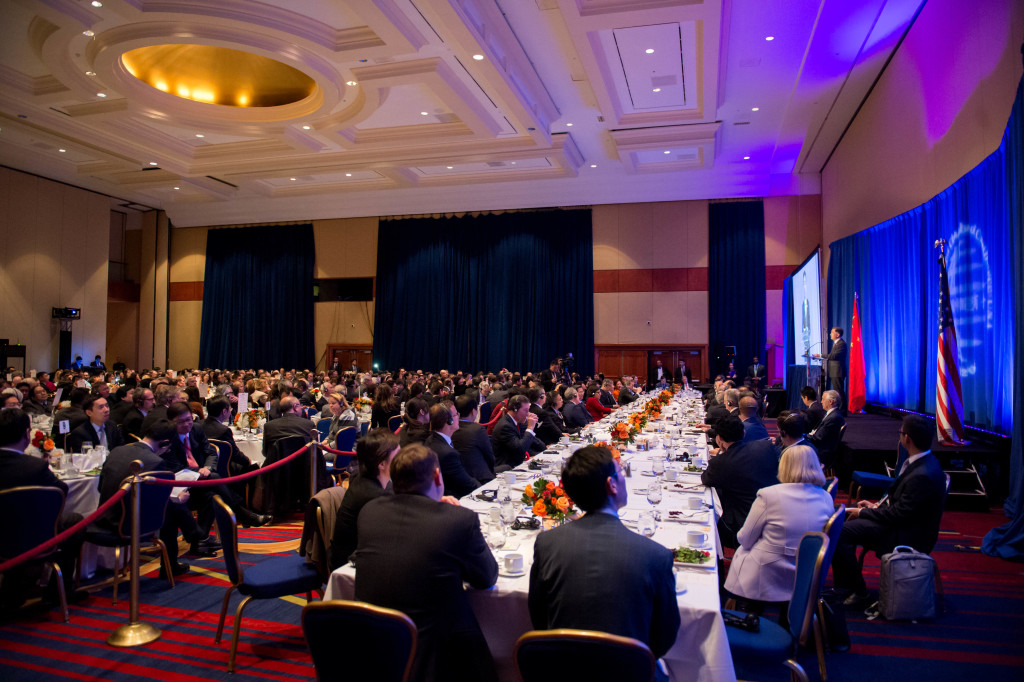 On November 22, the China General Chamber of Commerce-U.S.A. (CGCC) and The National Governors Association (NGA) jointly hosted a luncheon honoring Chinese Vice Premier Wang Yang in Washington, DC. Chairman, CEO & Co-Founder of Blackstone Group Stephen Schwarzman, former U.S. Secretary of Commerce and former U.S. Ambassador to China Gary Locke, Founder of Bloomberg LP, Philanthropist, UN Secretary-General's Special Envoy for Cities and Climate Change and three-term Mayor of New York City Michael Bloomberg, and U.S. Ambassador to China Max Baucus delivered speeches, respectively. U.S. Secretary of Commerce Penny Pritzker, United States Trade Representative Michael Froman and other 600 Chinese and American business executives, Chinese and U.S. government delegation members, important think tanks and representatives of nonprofit organizations attended this event.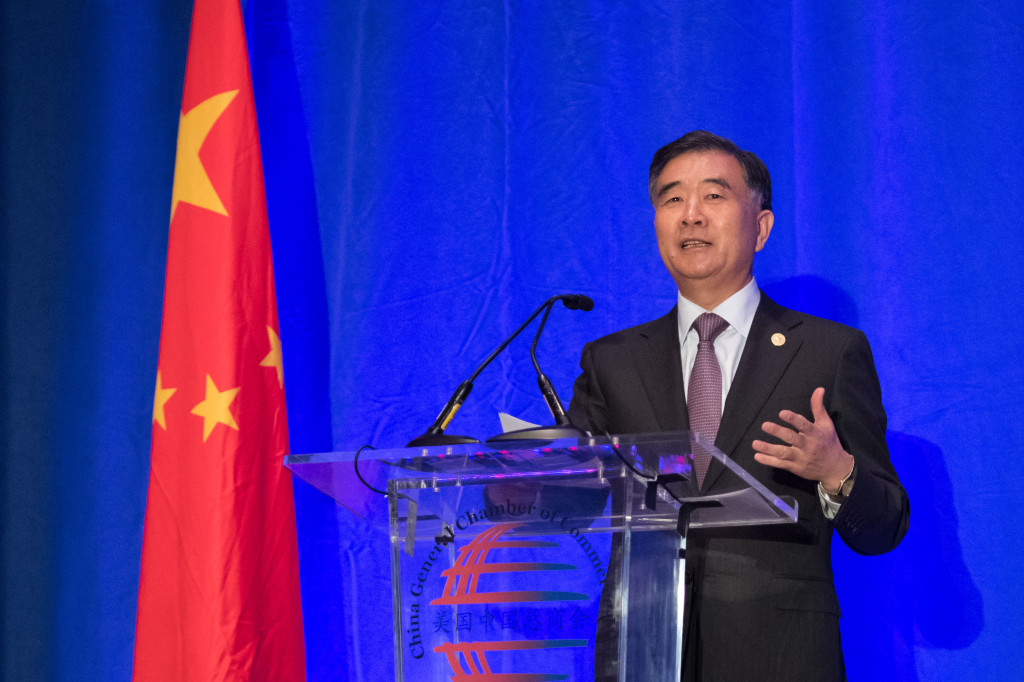 In his keynote speech, Wang Yang expressed confidence in the future of U.S.-China economic and trade relations under the next U.S. presidential administration. "Although there will be a change of administration in the US, the passion of the US business community for cooperation with China remains unchanged. If today's luncheon gives us a clue about China-US business cooperation, it is that we have every reason to be optimistic about its future!"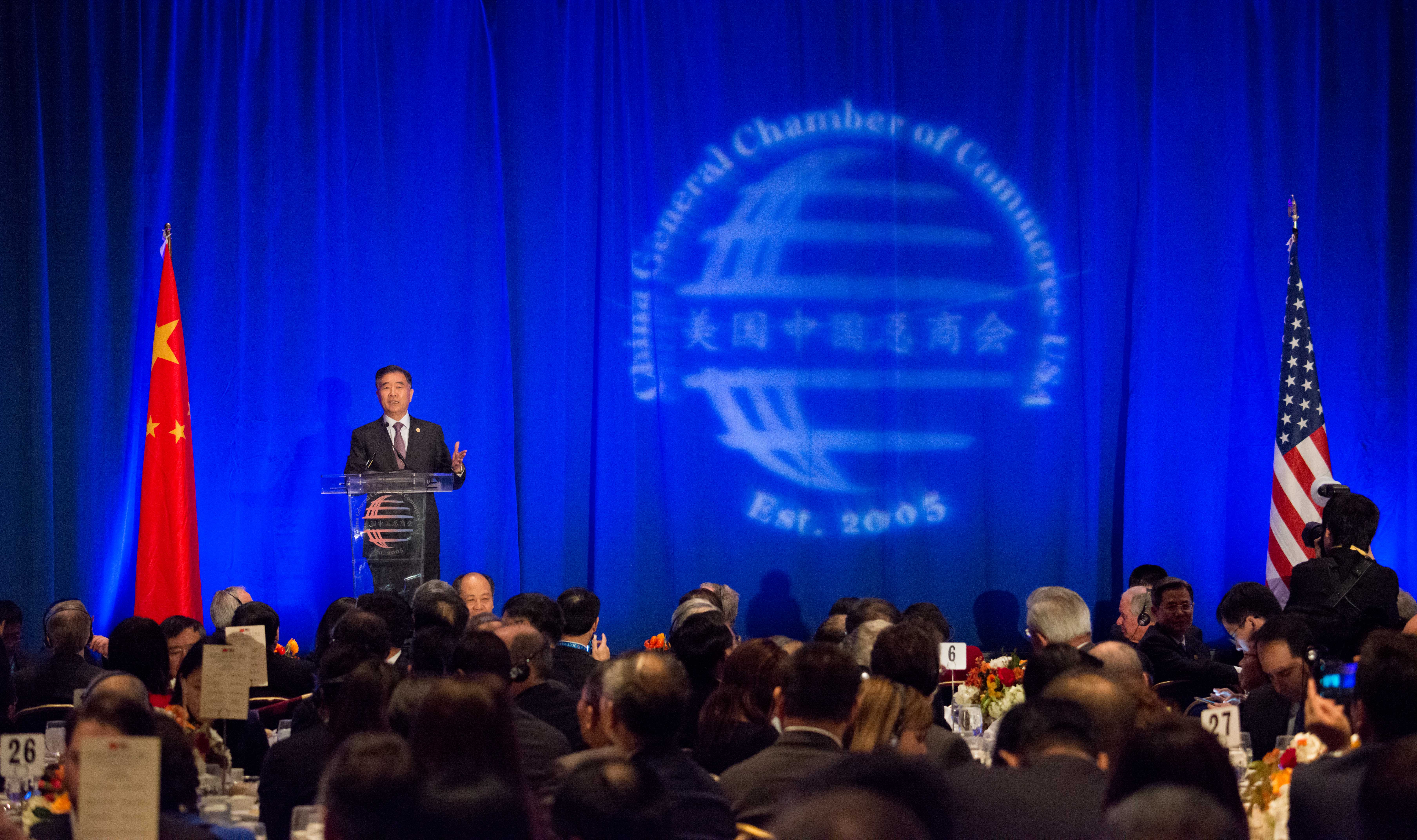 Vice Premier Wang stressed that, as two responsible major countries, the U.S. and China can only choose to cooperate. "China-US business cooperation is market driven, and its ultimate driving force comes from the people, from the business community. If China-US business cooperation gets into serious trouble, it will not only damage the two economies but also add to the uncertainties of global economic recovery."
Vice Premier Wang expressed how the business environment for foreign investment in China is continuing to improve in three key aspects: open-up, intellectual property protection, transparency of policies and regulations, including the establishment of intellectual property courts and public consultation to all sectors of society including US companies and relevant institutions. Wang Yang made it clear that China is willing to make the market more open; the business environment is becoming more and more standardized, policies and regulations more and more transparent. "In a word, we are taking big steps in the right direction," said Wang.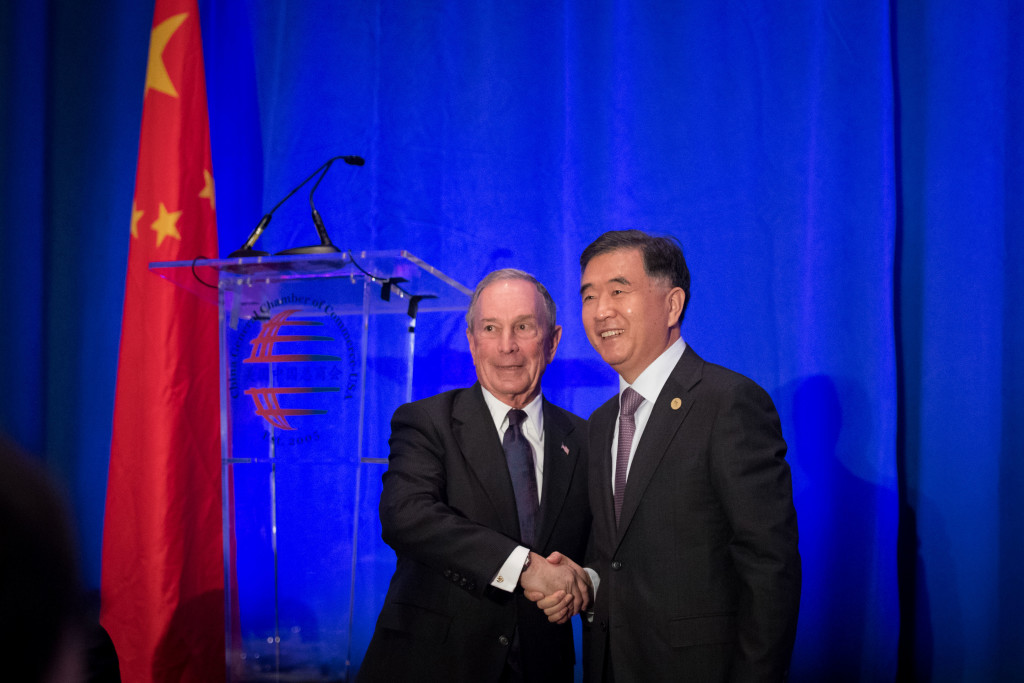 "The history of China-US diplomatic relations over the past three decades and more proves that competition can be kept within reasonable scope and cooperation always leads to win-win outcomes. By cooperation, China and the US can do a lot of great things for both of us and the world at large", said the Vice Premier.
The Vice Premier is in Washington DC to attend the 27th China-U.S. Joint Commission on Commerce and Trade. Wang said that he would like to work together with the U.S. side to make the cooperation in the JCCT more fruitful, and ensure a smooth business relationship during the transition period here in the U.S., and to lay a good foundation for China-U.S. business cooperation in the years to come.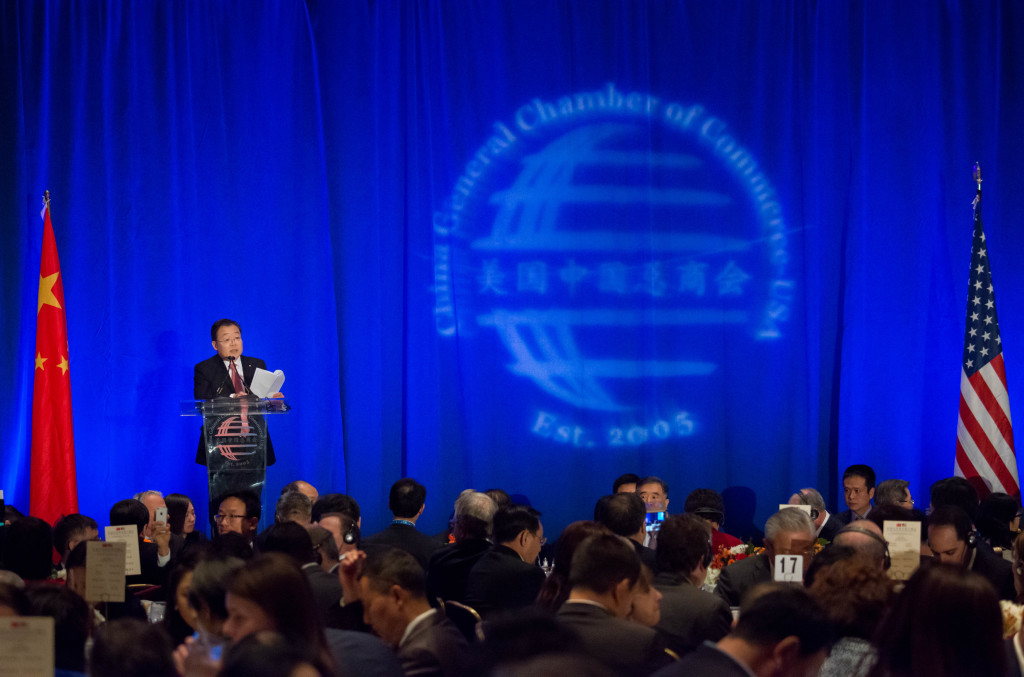 Xu Chen, Chairman of CGCC, President and CEO of Bank of China USA, welcomed the audience and invited distinguished guests Stephen Schwarzman, Gary Locke, and Michael Bloomberg to the stage to share their remarks. "Since its establishment more than ten years ago, the China General Chamber of Commerce-U.S.A. has been committed to serving its members, while promoting robust trade and investment between China and the United States. CGCC is looking forward to continuing to work with all sectors of society and relevant organizations to create a market environment that is open and mutually beneficial to both Chinese and American enterprises," Mr. Xu said.
In his remarks, Mr. Schwarzman spoke highly of CGCC's contribution to Sino-U.S. commercial exchange, and emphasized the importance of sustained and steady development of Sino-U.S. relations over the coming years. Mr. Locke praised China's rapid social and economic development, and said that despite the rise in isolationist sentiment seen in the Brexit and the recent U.S. presidential election, economic cooperation between China and the U.S. will continue to prove that trade benefits citizens from both countries.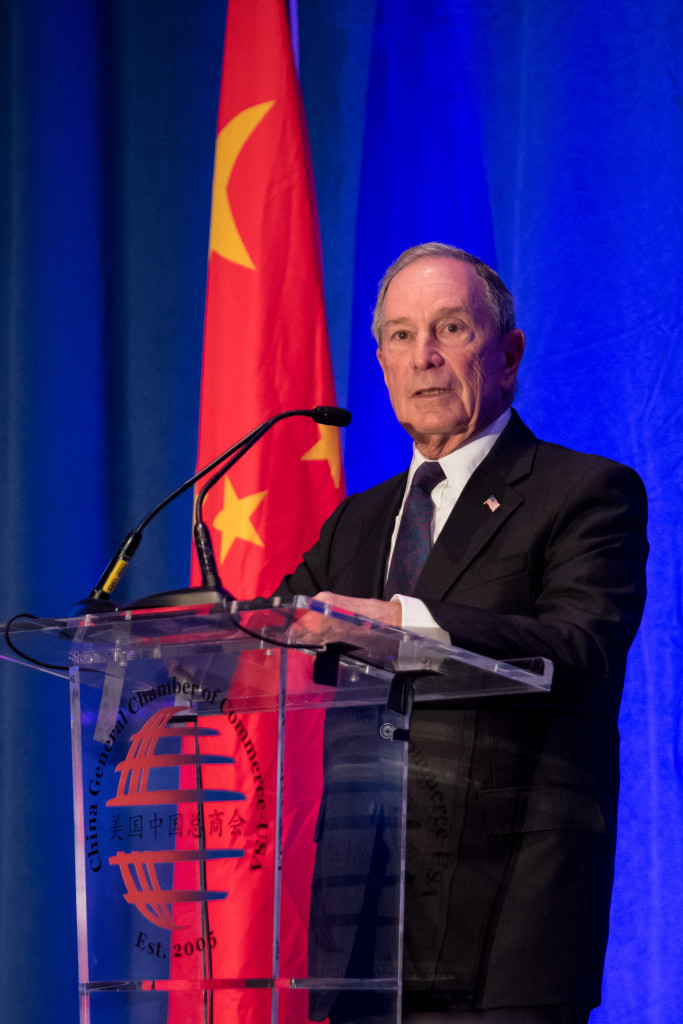 Mr. Bloomberg also affirmed CGCC's continued progress in promoting Sino-US business cooperation. Mr. Bloomberg believes that we should take every opportunity to further expand Sino-U.S. economic and trade cooperation, including the Bilateral Investment Treaty (BIT). "The relationship between China and America, the world's two largest economies, is more important than ever. There is enormous potential for that partnership to grow. Cooperation between our countries helps to fuel technological innovation, create jobs, and raise living standards in both countries", said Bloomberg. Meanwhile, Mr. Bloomberg conveyed greetings from Dr. Henry Kissinger, former U.S. Secretary of State, to Vice Premier Wang Yang.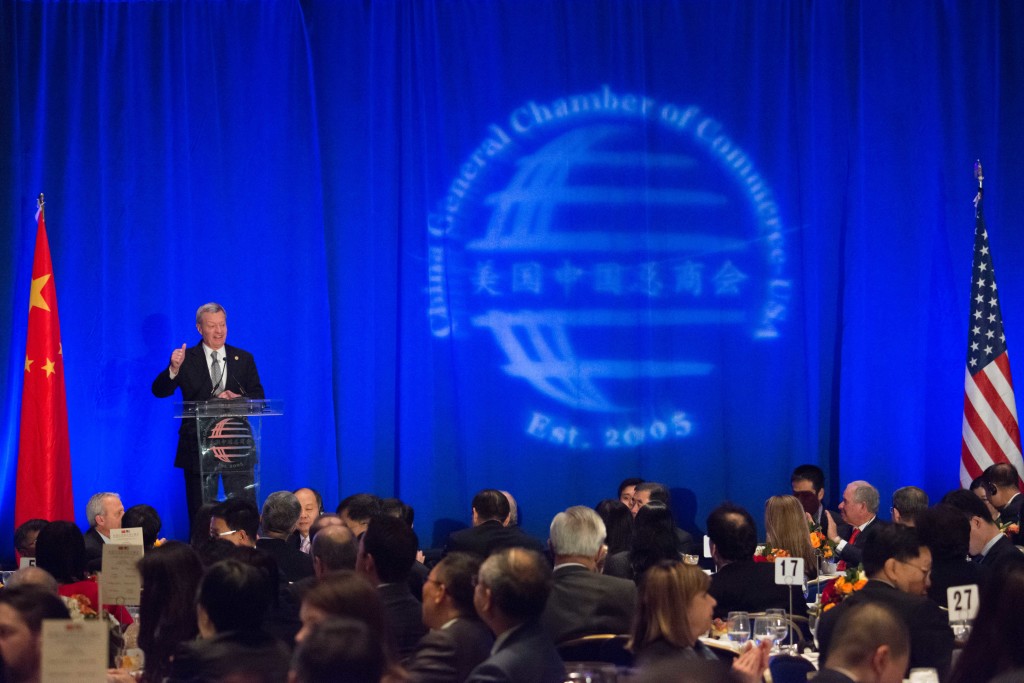 Sharing closing remarks, U.S. Ambassador to China Max Baucus expressed his deep feelings to the Chinese people, and said that the Chinese and American people are essentially the same, sharing the same aspirations, hopes and desires, and today's Sino-U.S. relations are so intertwined that we must continue closely working together and make it stronger.
CGCC expressed its deepest thanks to all the members and partners for their important support to this event. Special thanks to Sponsors: Bank of China USA, China Telecom Americas, China Center New York, International Vitamin Corporation, Pacific American Corporation, Huawei Technologies USA, China Construction America, SCG America Group, Fosun International, Industrial and Commercial Bank of China, JH Steel International, CICC US Securities, Sany America, Broad U.S.A., Baosteel America, Vanke (USA) Holding, China Communications Construction Company USA, Waitex Group of Companies, ZTE USA, China Southern Airlines Company Limited New York Office, COSCO SHIPPING (North America). CGCC will continue making best efforts to serve its members and contribute to the development of US-China business exchange and cooperation.
About CGCC
Founded in 2005, the China General Chamber of Commerce – U.S.A. (CGCC) is a nonprofit organization representing Chinese enterprises in the United States. Our mission is to promote Chinese investment in the U.S., support the legal rights and interests of our members, and enhance cooperation between Chinese and U.S. business communities. The CGCC's extensive membership includes numerous companies from both China and the United States, including 40 Fortune 500 companies. The CGCC is the foremost representative of Chinese businesses in the United States.
CGCC Foundation
The CGCC Foundation is an IRS 501(c)(3) charitable organization affiliated with the China General Chamber of Commerce. It dedicates to fulfilling social responsibilities, giving back to local communities and enhancing mutual understanding between the people of China and the United States.