On Thursday night, August 6, CGCC New York Chapter and CGCC Foundation hosted a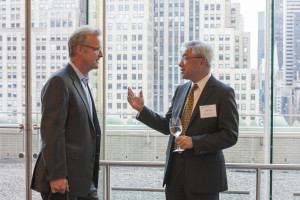 reception at HSBC Building in New York, welcoming more than 30 young leaders from China. In association with Shanghai Overseas Chinese Foundation (SOCF), University of Maryland, HSBC, and Committee of 100, this event attracted about 100 CGCC members to participate.
Seven outstanding members from various organizations addressed at the event including Henry Han, Director of China Desk, HSBC; Nathaniel Ahrens, Director of China Affairs, University of Maryland; Zhuo Han, Vice Chairman of CGCC, President of C
hina Telecom Americas; Wenjian Fang, Deputy General Manager of Bank of China NY Branch; Peitao Chen, Deputy General Manager of ICBC NY Branch; Fred Teng, President of NewsChina Magazine; Dazhong Wang, China Head of Committee of 100, Former Head of Beijing Auto. The speakers have delivered talks covering topics covering U.S. economy forecast, U.S. China relations, China's current economic reform, and technological innovation. A networking session was held after the speeches, in which these inspired young leaders had productive conversations with CGCC members.
Since established, CGCC Foundation has been dedicating to supporting China-U.S. educational and cultural exchange programs. This collaboration with University of Maryland gave these selected Chinese young professionals first-hand experience of conducting business in the United States. CGCC members also benefited from the exchange of ideas with young leaders from the top-notch universities in China.
---
---
---