On June 20, the Industrial and Commercial Bank of China (ICBC) and the China General Chamber of Commerce – U.S.A. (CGCC) jointly held "Roads to USA: Greenfield Investment vs. Cross-Border M&A" Forum in Washington, D.C. About 400 guests, including Lieutenant Governor of Nebraska Mike Foley, CGCC members and partners, the Chinese SelectUSA delegation, and influential business leaders and policy makers from China and the United States, attended the event.
As Chinese FDI to the United States increases rapidly in recent years, the greenfield investment and cross-border M&A are among the most heated topics of discussion for Chinese investors. This forum aims to facilitate such discussions and exchange ideas on these issues.
Mr. Xiao Yuqiang, Chairman of ICBC U.S. Region Management Committee and Vice Chairman of CGCC, delivered an opening remark at the forum. Mr. Xiao welcomed all the guests to the forum and gave an introduction of ICBC's business in the global market. "ICBC will continually give strong support toward Chinese businesses going global, especially in the United States."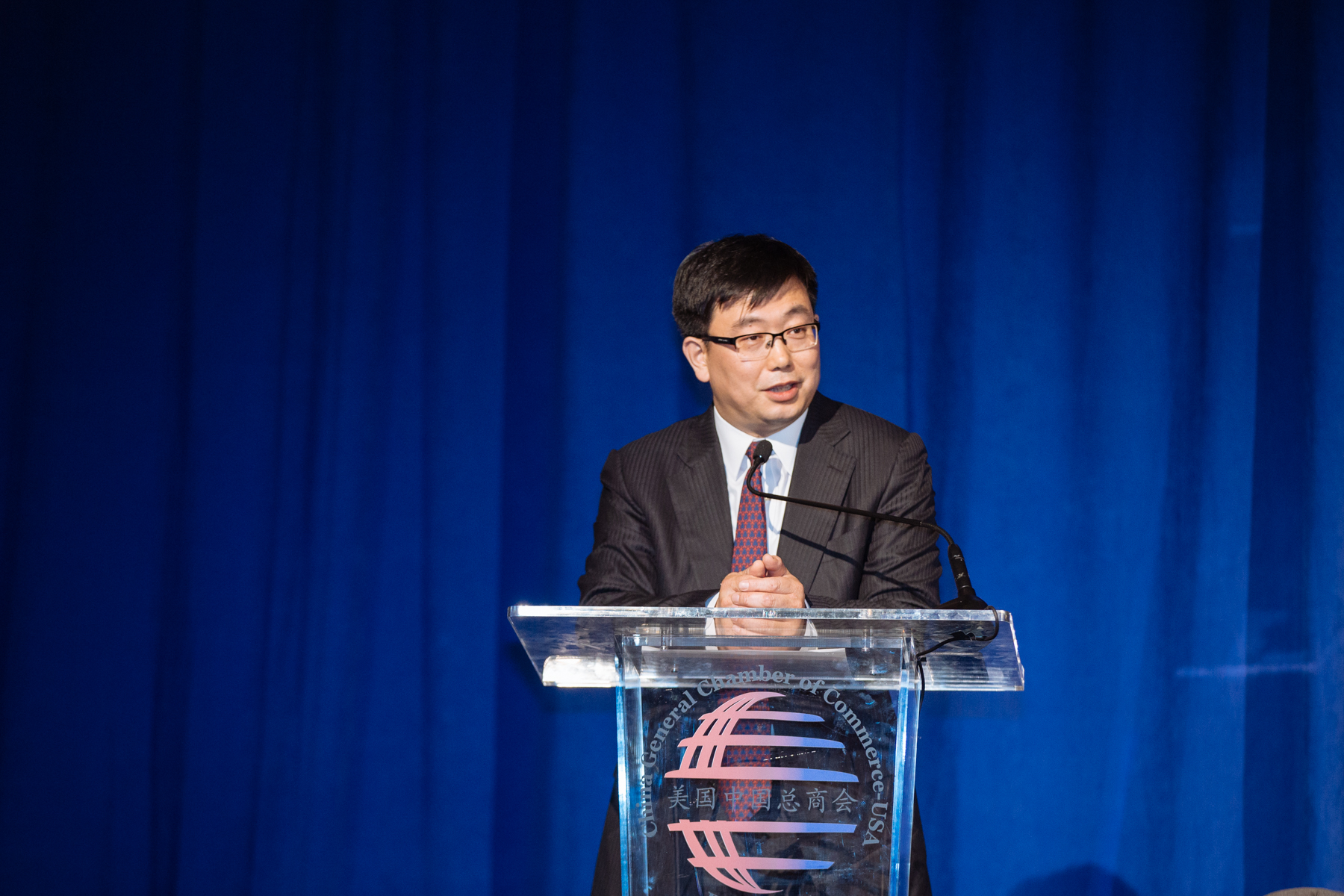 Mr. Mike Foley, Lieutenant Governor of Nebraska, gave a keynote speech. He presented his viewpoints and explained policies from the state level. He also expressed that "as China – US business relations develop, China has quickly become Nebraska's second largest trading partner outside of America. With this background, we embrace opportunities and desire to further build relationships with Chinese partners in more fields, especially in the agricultural field."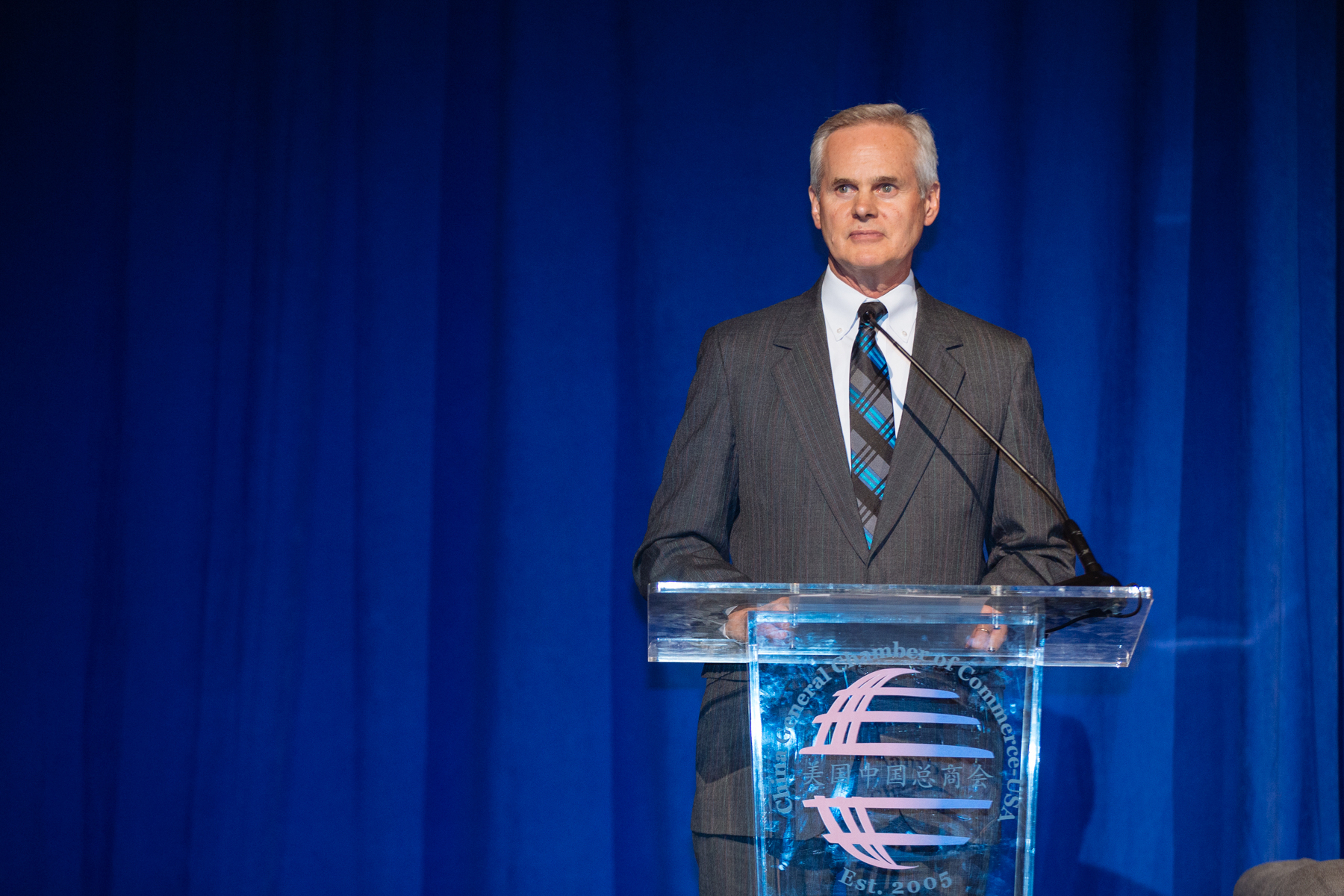 In the following two panels, managements from influential companies were invited to share their experience and stories. The first panel, moderated by Linda Zhang, Partner-in-Charge of KPMG U.S.-China Practice, was focused on U.S.-China trade relations. Panelists were including, Tim Dykstra, Vice President and Corporate Treasurer of Smithfield; Steven Dai, Vice Chairman of CGCC and President of International Vitamin Corporation; Peter Wu, Vice President of China Construction America; Li Gang, Project Manager of WanXiang American Corporation; and David Adelman, Former U.S. Ambassador to Singapore. Most panelists believed that despite the issues that may arise in terms of trust between the United States and China, progress in trade between the two countries must advance for the good of both countries. Chinese investors hope the U.S. government will continue to keep the line of communication open and facilitate a fair and open environment for investors.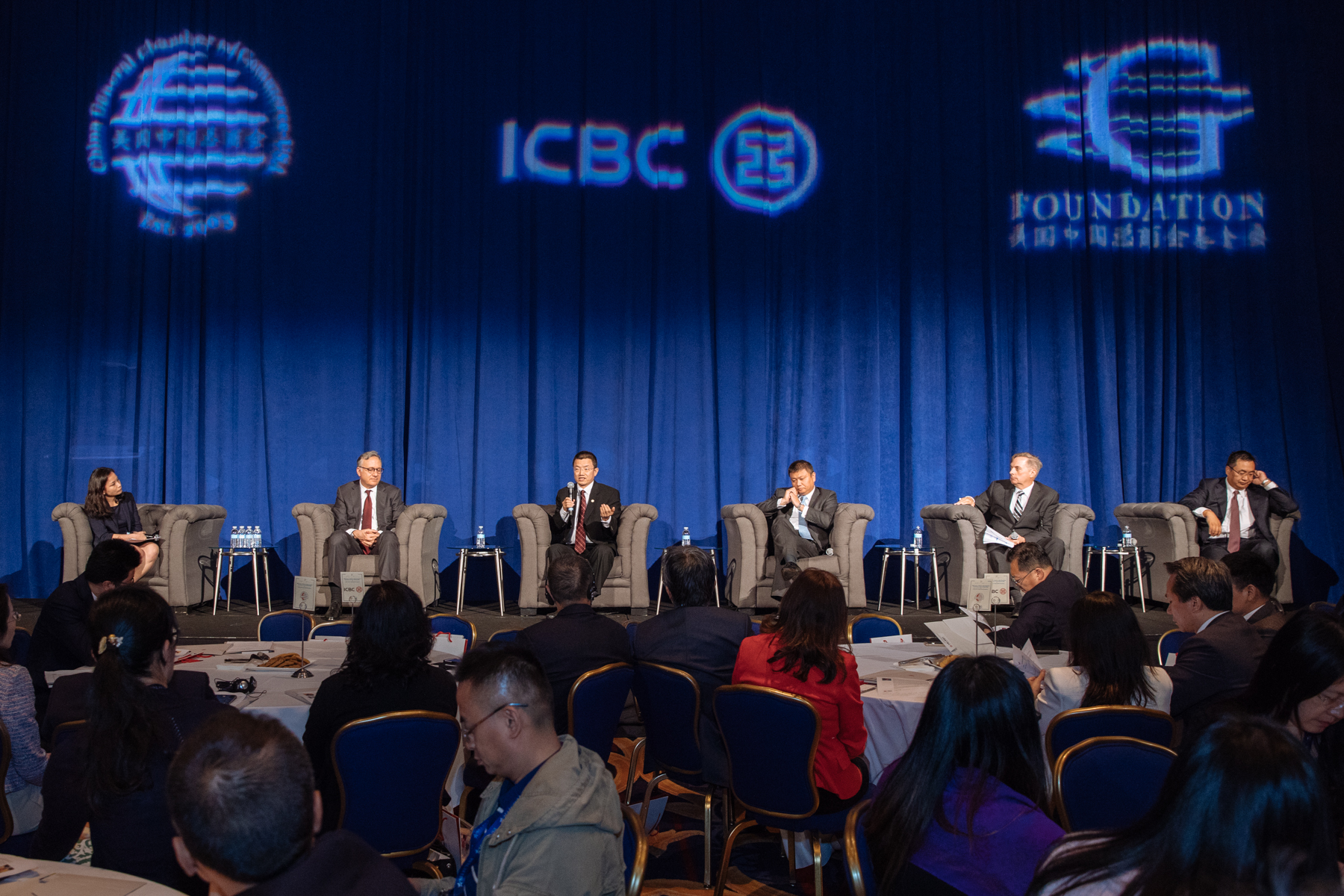 The second panel, moderated by Wang Guan, Chief Correspondent of CCTV America, was centered around the topic of challenges that Chinese businesses face in the U.S. The panelists were including Guo Xinyue, Deputy General Manager of ICBC New York Branch; Liu Chengyong, President of CRRC Sifang America; Lu Lin, Executive Director of Board & CEO of Shanghai CURA Investment and Management; Hu Gang, Executive Board Director of CGCC and President and CEO of Greenland USA; Fang Peng, Board Director of CGCC and President of GCL International. They shared their experience, pointing out that Chinese companies investing in the United States should be familiar with state laws and regulations to avoid conflicts with local employees. At the same time, Chinese companies should trust the personnel of American companies. It was established that trust in American employees is an important factor towards the success of a company.
The forum was followed by the CGCC 2017 SelectUSA Reception, attended by Mr. Wilbur Ross, United States Secretary of Commerce, and Mr. Zhu Hong, Minister for Commercial Affairs at Embassy of the People's Republic of China in the United States of America.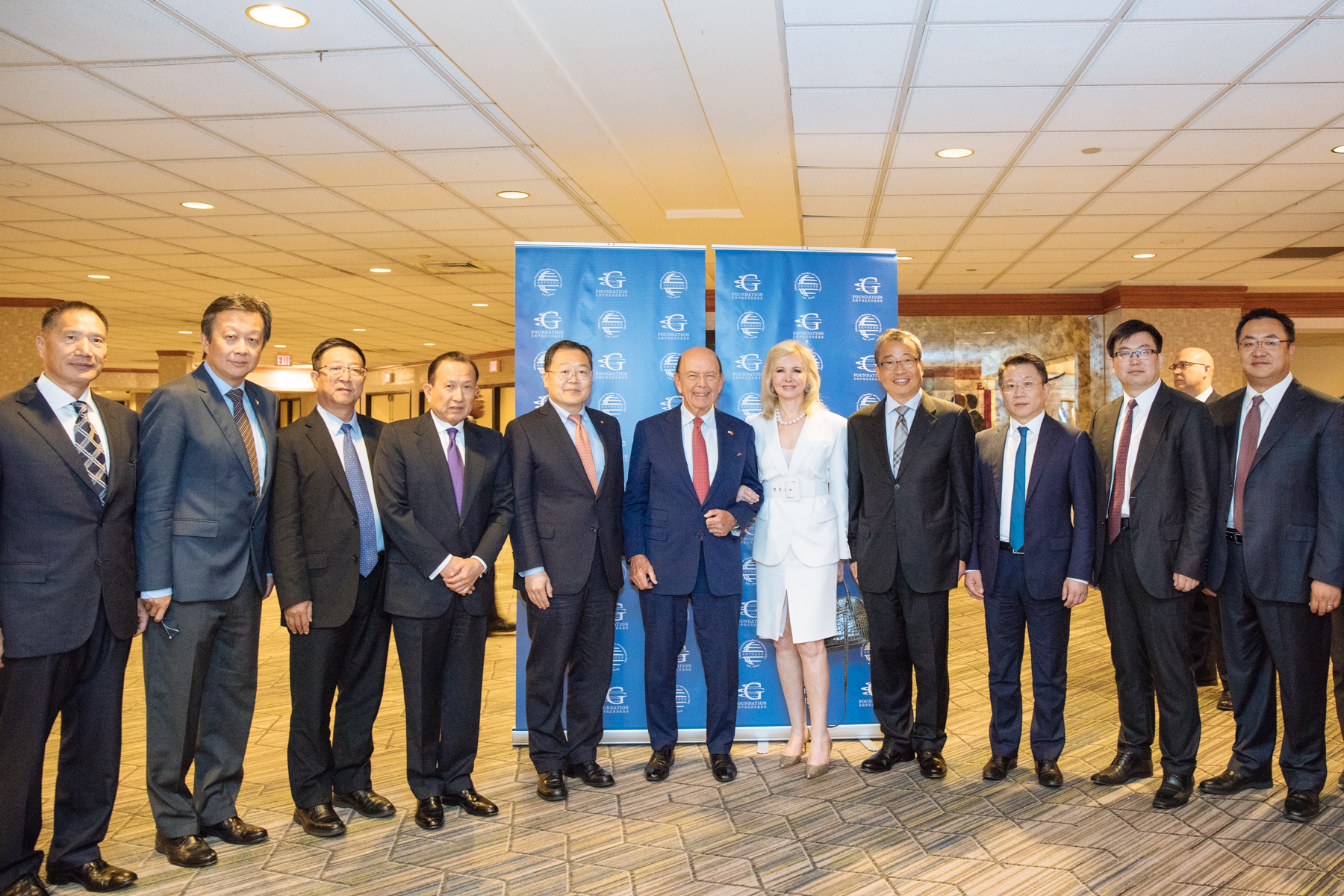 This is the CGCC's third time hosting the SelectUSA Reception for the China Delegation to the SelectUSA Investment Summit. The U.S. government initiated the SelectUSA program in 2011, with the aim to boost foreign investment in the U.S. This year's SelectUSA Investment Summit was held in Washington DC from June 18 to 20. It attracted more than 3,000 people from nearly 100 countries around the world.
About ICBC
ICBC was established on 1 January 1984. On 28 October 2005, the Bank was wholly restructured to a joint-stock limited company. On 27 October 2006, the Bank was successfully listed on both Shanghai Stock Exchange and the Stock Exchange of Hong Kong Limited. Through its continuous endeavor and stable development, the Bank has developed into the top large listed bank in the world, possessing an excellent customer base, a diversified business structure, strong innovation capabilities and market competitiveness and providing comprehensive financial products and services to 5,320 thousand corporate customers and 496 million personal customers. As of the end of 2016, ICBC has established 412 institutions in 42 countries and regions. The Bank continued to promote reform, innovation and operation transformation. ICBC is the largest bank in the world by total assets, tier one capital and net income.
About ICBC U.S. Region
Since ICBC set up the Representative Office in New York in 1997, ICBC has established four institutions in the U.S. Region, which are ICBC New York Branch, ICBC (USA) N.A., ICBC Financial Services LLC, and ICBC Standard Bank Plc. The four U.S. institutions locate across the west and east coasts. Particularly, ICBC (USA) N.A. has 14 branches and offices in four major cities – New York, Los Angeles, San Francisco, and Seattle. With over 550 professional staff members, the total asset of U.S. Institutions is over 55 billion dollars. ICBC owns a full suite of licenses, providing comprehensive business scope engaged in corporate finance, personal finance, fund clearing, security clearing and etc. Through its four institutions, ICBC is a member of NYSE, NASDAQ, LME, CME, ICE, CBOE, DTCC, etc. In September 2013, ICBC U.S. Region Management Committee was co-founded by ICBC New York Branch, ICBC (USA) N.A., ICBC Financial Services LLC. ICBC Standard Bank Plc. is managed directly by its headquarters in London, operating in the U.S. through its subsidiaries ICBC Standard Resources (America) Inc. and ICBC Standard Securities Inc.
About CGCC
Founded in 2005, CGCC is the largest nonprofit organization representing Chinese enterprises in the United States. Our mission is to promote Chinese investment in the U.S. and enhance cooperation between Chinese and U.S. business communities. Today, our membership extends to more than 1,500 companies from both countries, 40 of which are ranked in the 2016 Fortune 500 list. In 2016, our Chinese member companies employ approximately 200,000 of the U.S. labor force and invested over $50 billion in the U.S, these numbers are expected to significantly increase in the future.
About CGCC Foundation
The CGCC Foundation is an IRS 501(c)(3) charitable organization affiliated with the China General Chamber of Commerce. It dedicates to fulfilling social responsibilities, giving back to local communities, and enhancing mutual understanding between the people of China and the United States.